Indiana is flush with cash—$6.1 billion in reserves, to be exact—and as lawmakers prepare to return to the Statehouse Jan. 9 to begin crafting a two-year budget, social service advocates, lobbyists and others are lining up in search of funding for their pet issues.
K-12 spending, public health funding and efforts to train more workers for available jobs are all expected to be among the key issues vying for money and attention.
The state's economy is in better standing than it was during the last budget-writing session in 2021, when the pandemic brought declining tax revenue. But with many economists predicting some sort of economic slowdown next year, the lawmakers who control the purse strings might still take a cautious approach.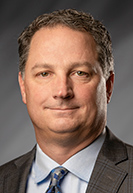 K-12 education appears to be a slam-dunk for increased spending, though the battle between traditional public schools and charter schools for their share of the pie will continue.
Indiana spends more than half of its budget on education, and House Speaker Todd Huston, R-Fishers, said he expects the Republican-controlled Legislature to increase K-12 funding while expanding funding for charter schools.
The Indiana State Teachers Association and the American Federation of Teachers of Indiana, two of the state's largest teachers' unions, are pushing back against funding for school choice, arguing that the state's divestment from public schools has led to a teacher shortage and poor learning outcomes for students.
Other initiatives—such as public health, and some with no price tag attached—might have to fight harder for attention.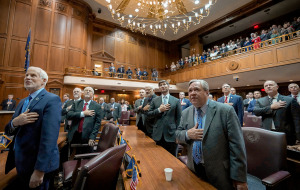 Improving public health
While the worst of COVID-19 seems to be behind Indiana, the pandemic highlighted and exacerbated the plethora of health problems plaguing the poorest and most disenfranchised Hoosiers.
In 2021, Indiana ranked 48th in the nation in public health funding, spending about $55 per Hoosier, which is $36 lower than the national average. To bring the state in line with the national average, leaders would need to cough up an additional $240 million each year—an increase of 65%.
Among those leading the charge for more funding at Gov. Eric Holcomb's request is Luke Kenley, a former state senator from Noblesville who wielded considerable control over state coffers as chair of the Senate Appropriations Committee from 2009 to 2017. Kenley co-chaired the Governor's Public Health Commission, alongside former state health commissioner Dr. Judith Monroe, which recommended the $240 million annual funding increase, much of which would go toward local health departments that are notoriously understaffed and limited in resources for school nurses, ambulance service, providing immunizations and collecting health data.
Sen. Ed Charbonneau, a Republican from Valparaiso and chair of the Senate Health & Provider Services Committee, has agreed to be the bill's lead sponsor in the Senate. Sen. Jean Leising, a Republican from Oldenburg and a former practicing nurse, has agreed to co-sponsor the legislation.
Kenley's proposal would allow counties to decide whether they want to participate in a five-year public health program, with the state covering 80% of the costs and counties picking up the other 20%. While this voluntary approach allows the state health department to avoid giving off the appearance that it is dictating policy for local health agencies, it could leave continued gaps in health coverage if some counties decide not to opt in to the program.
Senate President Pro Tem Rodric Bray recently threw cold water on the idea that the state will allocate the full $240 million annual increase recommended.
"I don't see us spending $480 million in this next [two-year] budget on public health," Bray said at the Indiana Chamber's annual legislative preview luncheon last month. "I'm not even sure if we sent that kind of money to local health departments that they would be able to handle it well."
On the House side, Huston said he agreed that more money needs to be invested in local health departments but also placed some of the blame on Hoosiers for their poor health outcomes—despite the prevailing view among medical practitioners that socioeconomics, poverty and limited access to health care play a larger role in determinants of health than lifestyle choices.
"It's no great shock that how you eat matters and exercising matters," Huston remarked during the Chamber event. "How do you improve health care outcomes? First and foremost, it's personal responsibility. And I think that sometimes gets lost in these discussions, and it becomes about what government is going to do."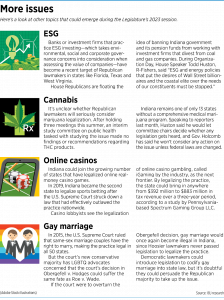 Readying the workforce
There are currently twice as many job openings in Indiana as there are job seekers, and many of the state's most prominent employers have made no secret of their struggle to find skilled workers to fill jobs that require science, technology, engineering and math skills.
"We hear it from employers, and we see it in virtually every education and workforce statistic. It's that Indiana has a massively leaking talent pipeline," said Indiana Chamber President and CEO Kevin Brinegar, whose organization recently developed a brief white paper called "Indiana's Leaking Talent Pipeline" that delves into this dilemma.
The Governor's Workforce Cabinet, a group of business executives, education leaders, government officials and community stakeholders tasked with addressing the growing demand for qualified workers, released a report in November offering 30 recommendations to encourage students to enter STEM fields, allow for more flexibility in high school diplomas and incorporate work-based learning opportunities in high school classrooms.
Some of those recommendations will likely have to go through budget discussions, including a recommended increase in funding for the Next Level Jobs Workforce Ready Grant to train Hoosiers for digital workplace needs. The cabinet's recommendation to create an "Indiana Talent Agency" to help employers find workers could also require increased funding to the Department of Workforce Development.
The cabinet also recommended "significant and immediate" funding increases to several of Indiana's key adult education programs through a legislative appropriation.
Other proposals would require an adjustment to the state's postsecondary outcomes-based funding formula, including a measure to motivate colleges to graduate more students with STEM degrees and keep graduates in Indiana.
But some of the recommendations won't necessarily require additional funding at the state level, like requiring students to fill out the Free Application for Student Aid (FAFSA) as a requirement for graduation, or encouraging more employers to begin offering education and training programs to students at their worksites.
House Minority Leader Phil GiaQuinta, D-Fort Wayne, said the state also needs to invest more in pre-kindergarten programming.
"It really starts at an early age," GiaQuinta said. "It's about making sure that schools are getting the funding they need to be successful."
Road funding
Indianapolis-area lawmakers in the Indiana General Assembly are expected to introduce legislation to adjust the state's road funding formula to better serve Indianapolis and Marion County, which has some of the worst-kept roads in the state.
That's largely because the state's formula allocates gas-tax funds and other revenue by center-line miles—which measure the length of the road—rather than by vehicle miles traveled.
A recent study conducted by Indianapolis-based Policy Analytics found that the nine counties that constitute central Indiana fall in the bottom third when it comes to funding by local vehicle miles traveled, with Marion County ranking dead last.
Rep. Justin Moed, a Democrat from Indianapolis, introduced a bill last year that would have changed the formula to be based upon vehicle miles traveled, but the legislation never got a hearing.
While some Republican suburban mayors have expressed support for changing the formula, Republican Party leaders at the Statehouse don't appear eager to change a system that benefits rural counties over urban areas.
"Our historic road funding plan passed in 2017 ensured money paid at the pump funds our bridges and roads," Huston said during Organization Day. "We delivered on that promise with amazing results, and we will not break that commitment to Hoosiers."
Indianapolis Mayor Joe Hogsett recently told IBJ he is continuing to have conversations with state lawmakers who are willing to sponsor legislation to adjust the state's road funding formula.
Lowering health care costs
Not only does Indiana rank poorly when it comes to metrics like obesity, smoking, and maternal and infant mortality rates, Hoosiers also spend more than the average American on health care, and more than $75 billion is spent in Indiana on health care costs and lost productivity to address issues associated with chronic disease.
Other factors besides the high prevalence of smoking and obesity contribute to high costs, including the high concentration of hospital, physician and insurance markets in Indiana, which led to health care costs increasing 48% in a nine-year period, according to a recent study commissioned by state lawmakers. Hoosier families pay $22,000 a year on average for a family plan, more than any surrounding state and the 15th-highest amount in the nation.
"All of the large health care providers in Indiana have some explaining to do when it comes to the cost of health care," said Senate Minority Leader Greg Taylor, a Democrat from Indianapolis, during the Chamber luncheon. "Finally, now, people are starting to wake up and understand that Hoosiers are suffering because of the high cost of health care in the state of Indiana."
Health care expenses also place a heavy burden on employers, who pay a significant portion of health care plans.
Last year, legislative leaders asked 20 health care executives to submit a plan that would lower Indiana's skyrocketing health care costs to the national average or lower by 2025. Some argued that passing new laws on health care prices would not solve the problem, though Bray and Huston have indicated a willingness to pursue legislation to statutorily reduce prices if the state's largest hospital systems don't do more to curb costs for consumers.
Creating a state energy plan
In the run-up to last year's legislative session, lawmakers vowed to revive legislation to establish statewide standards for renewable energy after a 2021 bill that would have created standards for wind and solar power failed to garner enough support.
Since then, lawmakers serving on the 21st Century Energy Policy Development Task Force have released a list of recommendations, which included creating programs to redevelop shuttered coal operations, reducing barriers to power lines and other transmission projects, and lowering electric rates to be within the cheapest 25% of all states by 2030.
The 13 recommendations could lead to legislation, but the task force couldn't come to agreement on a statewide-energy efficiency plan.
Rep. Ed Soliday, R-Valparaiso, who chaired the task force, has cautioned that moving too quickly toward renewables could hamstring the state's ability to provide reliable and affordable electricity.
Republican leaders in both chambers have adopted a similar point of view.
"I'm for more renewables, too," Speaker Huston said, "but the fact of the matter is, you have to have what's called baseload energy—that's the stuff that actually allows you to heat your homes, turn on your lights and run your businesses."
Bray, the Senate leader said: "The problem with moving too quickly into renewables is that they don't have the ability to provide the level of power we need 24/7. When the wind isn't blowing or the sun isn't shining, we've got to make sure we have that reliability."
Making housing affordable
Across the state, a shortage of affordable rental homes creates a severe disadvantage for low-income families. More than one in four renting households are considered extremely low income, and Indiana has a shortage of more than 135,000 affordable rental homes, according to an April report from the National Low Income Housing Coalition (NLIHC) and Prosperity Indiana.
More than 70% of low-income renters spend more than half of their annual income on rent, far more than the recommended 30%.
The Indiana General Assembly's Housing Task Force released a report in October of recommendations for future legislation, among them state infrastructure financing through loans or grants for builders, buyers and municipal governments looking to develop affordable housing projects.
But some Democrats felt the recommendations failed to go far enough to look out for renters living in poorly kept units.
"There were a lot of good ideas included in this final report, including state-funded financial literacy programs, more resources for brownfields redevelopment and the need to address substandard housing," Rep. Cherrish Pryor, D-Indianapolis, said in a statement following the release of the report. "Ultimately, though, I felt many solutions regarding the housing crisis in Indiana were too vague for me to support the report."
The task force also recommended supporting the redevelopment of brownfield sites, tax incentives for housing projects and opposing any new taxes on housing.•
Please enable JavaScript to view this content.