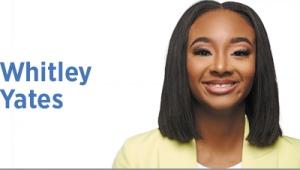 When I make the statement that civic engagement is a luxury, I'm usually met with bewildered stares and side eyes. But the act of being civically involved—whether that be in advocating, contributing to policy progress or voting—can be seen as a luxury by many people.
According to Merriam-Webster, luxury is defined as a condition of abundance or great ease and comfort. Understanding the totality of this weighted statement requires one to step outside his or her comfort zone and lean into the uncomfortable lives of others.
It has been well-documented in studies and books like "Voice and Equality" that people with lower incomes are less likely to vote, or they vote at lower rates. The reasoning behind this varies and there may never be a clear explanation.
The experience I have had being raised in poverty is that civic engagement is a luxury when you are trying to survive day to day. For someone who is attempting to survive poverty, dedicating time to learning about candidates, attending after-hours forums and researching platforms can be costly and time-intensive. If a correlation cannot be made or directly felt between positive impact and civic involvement, if given an option, one would instead spend time focusing on activities that provide immediate reprieve of current conditions. When you combine that with barriers of access to engagement—such as transportation, education and lack of information—it paints a unique picture.
Many lower-income earners are disengaged from the entire political process. A common theme perpetuated is that voting or being civically engaged doesn't present immediate tangible change or progress for their lives. If lower-income individuals are less likely to vote, having their interests served or issues reflected in public policy is unlikely. The relationship between higher-income earners and voter participation seems to stem from an overwhelming sense of duty and a need to protect their investments, both financial and social, in our society. This begs the question, is voting reserved for the privileged? When your daily life is not in a place of abundance or comfort, it is impossible to focus on foresight.
A successful democracy is predicated on the participation of ALL eligible members. The truth is that eligible doesn't equate to able. If voting and civic engagement are dominated by those who sit in places of economic comfort and abundance, and the voices of those in poverty are absent or minimal, disenfranchisement might exist even if it is unintended.
I am a strong advocate for pushing everyone—no matter their socioeconomic status—to the polls and to engage on all levels of government for a more representative society. While that is a mission, the data suggests it's not reality.
My simple request on the precipice of this election is to widen your perspective when you're pushing the Get Out The Vote efforts. Understand that, when you walk into the voting booth, or advocate for policy, you should not only think about your interests but also understand that you have the power to provide a voice to those who—out of hardened economic circumstance—might not be adequately represented.
I implore you to learn from the lives of those so starkly different from yours and to consider for a moment the realities, repercussions and rewards of how your engagement and vote could alter the trajectory of people leading less-luxurious lives.•
__________
Yates is director of diversity for the Indiana Republican Party, a political commentator and a law degree candidate. Send comments to ibjedit@ibj.com.

Click here for more Forefront columns.
Please enable JavaScript to view this content.