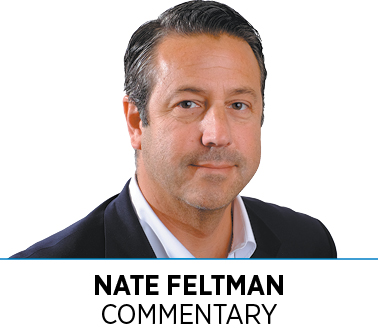 Indy's mayoral campaign kicked into high gear this week with the first debate between Democratic Mayor Joe Hogsett and his Republican challenger, Jim Merritt. IBJ was honored to moderate the first debate and will continue to report on the campaigns and advocate for policies that will ensure our city's continued growth and development.
The next mayor has an opportunity to set a vision for Indy's future. We should expect our mayor to succeed at the basics: public safety, clearing the roads of potholes and snow, picking up the trash, and working to improve education. Mayors who do the nuts-and-bolts jobs but who also set a vision for our future have an opportunity to leave a lasting legacy of growth and opportunity.
If we want to become an even more livable city that retains our college grads and attracts diverse people from around the world, we must think creatively and take some calculated risks.
Maybe one of our candidates will adopt some of these ideas that could help fuel Indy's growth:
◗ Develop IUPUI into a world-class university. IUPUI has made incredible strides, but further advances would pay off big for our city. To reach its potential, should IUPUI become Indiana University-Indy or an independent university with a new, less confusing name (e.g., Lugar University)?
◗ Champion and further advance efforts to develop the White River. Often, we decry our lack of oceans and mountains, but we do have a river that runs through our city. Other cities have had great success developing their waterfronts and so should we.
◗ Create more green space. We've added thousands of condos and apartments downtown, but not more green space. We should think creatively about developing new public spaces and continuing to enhance existing assets, such as Riverside Park.
◗ Build a world-class performing arts center. We have invested in world-class sports facilities, but the same cannot be said for our facilities for the symphony, ballet, musicals and more.
◗ Capitalize on iconic Monument Circle. Develop the potential of this natural gathering spot by closing it to car traffic and making way for three-season restaurants/cafes. The space should be used frequently for music and art festivals, farmers markets and other engaging public uses.
◗ Get creative on talent initiatives. Check out Tulsa's recent initiative to attract people who work remotely at tulsaremote.com. This out-of-the-box initiative has the potential to attract people who could become the entrepreneurs and leaders of the future.
◗ Rethink Circle Centre mall. Amazon has changed the retail landscape. Time to use our imaginations and redevelop this important part of our downtown.
◗ Embrace motorsports and Indy Eleven. We are known globally for the Indy 500, but we could do more to fully embrace motorsports. What about a downtown race? Maybe a downtown museum, entertainment district and/or center of motorsports innovation? Soccer is going nowhere but up in popularity. Now is the time to get behind Indy Eleven's efforts to bring Major League Soccer to Indy.
◗ Develop a center for bipartisanship. Indy's growth has been fueled by leaders working together despite their political differences. Lord knows our country needs more work focused on how we can work together to overcome real problems. U.S. Sen. Richard Lugar founded the Lugar Center to focus on, among other things, bipartisanship. Move the Lugar Center from Washington to Indy and put this effort on steroids.
The next mayor should set a vision that includes novel ideas for ensuring Indy's growth, relevancy and livability. The mayor is not solely responsible for Indy's future, but our city leaders have in the past, and can in the future, be agents of positive change.•
__________
Feltman, an attorney and former secretary of commerce, is a shareholder in IBJ Corp.. To comment, send email to nfeltman@ibj.com.
Please enable JavaScript to view this content.