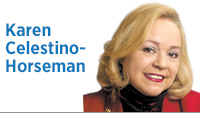 I have a front-row seat to the Trump presidency because I follow Donald Trump on Twitter. His tweets (in which he refers to himself in the third person) engage in name calling, confusing rants, lies or attempts at international diplomacy. When he is really upset, he will send three or four or more notifications within the space of an hour, each one delivered like a stomp on the floor by a spoiled 3-year-old who is not getting his way. Given the number of tweets in recent days, the impeachment investigation has his full attention.
Until this point, Trump has sailed through his presidency using social media as a bully pulpit to divide and conquer the American people by encouraging us to distrust and despise one another. He attacks those who oppose him by calling them names (think of the 3-year-old who sticks out his tongue at you when you tell him "no"). And, he has intentionally spread misrepresentations.
Trump's actions grow more and more outrageous because he has never faced serious consequences for them.
Before learning Trump had withheld aid from the Ukraine, contingent upon Ukraine's investigating the son of Joe Biden, I was like many Americans who did not support impeachment. With so much polarity between those holding different ideas, I dreaded what the impeachment process might do to us. But no more. As Trump's transgressions have come to light, I have come to think it is time to sit Trump in a corner of the room and let him know that bad behavior garners bad consequences.
Will the Republican-controlled Senate impeach him? Probably not, because the Republican majority is afraid to bring down a Republican president due to how it might impact the power position of their party. But at least with the passage of articles of impeachment, we will at long last be making it clear that a president is not a king and there are lines that cannot be crossed, even by a president.
Trump is leaving a legacy, but as Americans, we must ask if this is a legacy we want to endure. Do we really want the president of the United States to engage in Twitter rants? Do we really want our president offering rewards (purchased with our tax dollars) to foreign powers that bring him dirt on his political opponents? Do we want our president using media events to invite foreign powers to meddle in our elections?
If Trump goes unpunished, what message will that send to his successor? If he is re-elected, how far will Trump push it? At least with articles of impeachment, Trump or his successor will see that actions have consequences and those consequences will become even more serious if those actions are pushed beyond a limit.
Yes, we have elected a man with the maturity of a 3-year-old, and he needs a time-out. I hope the House of Representatives puts him in a much-deserved corner and I pray he understands why he was put there. In the meantime, I will continue to monitor his Twitter feed. It is like watching a horrendous train crash, and only by watching it can I gauge the chance of survival.•
__________
Celestino-Horseman is an attorney and represents the Indiana Latino Democratic Caucus on the Democratic State Central Committee. Send comments to ibjedit@ibj.com.

Click here for more Forefront columns.
Please enable JavaScript to view this content.