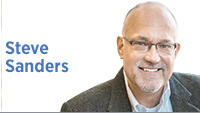 For almost two generations, federal law has prohibited employment discrimination on the basis of sex. When Title VII passed in 1964, it was generally understood that Congress was targeting widespread discrimination against women in hiring, promotion and job benefits.
Over the years, the U.S. Supreme Court has extended Title VII to new scenarios. The law now protects men as well as women. It is used to attack sexual harassment, since that is also a form of sex discrimination. And it has been interpreted to outlaw mistreatment based on sex stereotypes—for example, when an accounting firm denies a partnership to a woman because she doesn't dress femininely enough or wear makeup.
In the last few years, some lower federal courts have extended Title VII in a new direction: to prohibit discrimination on the basis of sexual orientation or gender identity. On Oct. 8, the Supreme Court will hear a trio of cases involving anti-gay and anti-transgender discrimination and ultimately will decide whether these lower-court decisions continue to stand.
There's a good chance you haven't heard about these cases. LGBTQ-employment discrimination doesn't capture people's imaginations like same-sex marriage, which was part of our national debate for two decades. Yet these Title VII cases raise compelling issues about sexuality, the effectiveness of our democratic process and the state of LGBTQ equality.
Why should a law prohibiting "sex" discrimination be thought to also cover sexual orientation? Well, as a federal appeals court explained in 2017 in a case involving a lesbian instructor who had been fired from Ivy Tech, being gay or lesbian is the ultimate failure to conform to a sex stereotype. Like the accounting firm that denied promotion to a woman who was not feminine enough, the employer who fires someone for being gay or lesbian is policing the boundaries of what behaviors are acceptable for men and women. A man may date a woman, but a woman is punished if she does so: That is discrimination on the basis of sex.
A similar argument goes for someone who was born male but has transitioned gender—usually with the assistance of counseling and medical treatment—and now identifies as female (or vice versa). If an employee who was born Anthony has become Aimee and the employer fires her because he disapproves, that discrimination would not have happened but for the victim's sex, as well as her failure to conform to the employer's gender stereotypes.
Many legal experts are skeptical that the reasoning of these lower courts will persuade the Supreme Court's five-member conservative majority. At least some of these justices will argue that when members of Congress almost two generations ago enacted Title VII, they could not have imagined they were protecting LGBTQ people. Such "originalist" jurists reject the idea that courts may interpret words in a statute—such as "sex"—according to contemporary, common-sense understandings.
Some of the court's conservatives likely will lecture LGBTQ people: Use the democratic process; take your case to Congress and ask them to update the law. The problem is that although supermajorities of Americans—over 80%, according to Gallup—have agreed since the 1990s that gays and lesbians should have equal job opportunities, Congress has refused to respond. Recently the Democratic-controlled House passed a bill to change this. But Senate Republicans continue their party's ideology of blocking any law that would recognize the basic equality of LGBTQ people.
The lesson of these cases may be that we can no longer rely on courts to safeguard LGBTQ equality. Instead, we must change who controls the Senate and White House.•
__________
Sanders is professor of law at the Indiana University Maurer School of Law in Bloomington.Send comments to [email protected]

Click here for more Forefront columns.
Please enable JavaScript to view this content.