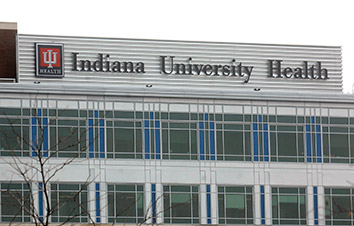 Indiana University Health is planning to resume elective surgeries as soon as next week after postponing them for months as the pandemic overwhelmed the medical teams at its 16 hospitals.
The Indianapolis-based health care system said Thursday afternoon that it has a backlog of thousands of elective surgeries, procedures that are medically necessary but can usually be scheduled at a patient's convenience, such as hip replacements and tonsillectomies.
"Now we have to start slowly because we still have a significant COVID burden,"  Dr. Paul Calkins, associate chief medical executive, said at a press briefing. "…It's going to take a while to ramp back up to serve all these folks that are waiting for us. But we're hoping to get to everybody as quickly as we can."
The system has continued to perform emergency and urgent surgeries, such as those for cancer, gunshot wounds and heart attacks, he said. IU Health, the state's largest hospital system, normally performs more than 70,000 surgeries a year.
IU Health was treating 567 hospitalized COVID-19 patients across its system as of Thursday, but that was down about 15% from a peak of 669 on January 9, officials said. COVID-19 cases represent about 30% of the system's total patient census.
Even as the number of COVID-19 patients has begun to fall, IU Health said it is still facing challenges, including a staffing crunch caused by retirements, resignations and the quarantining of personnel who have tested positive.
About 20 doctors, nurses and therapists from the U.S. Navy are continuing to help at Methodist Hospital, the system's flagship hospital north of downtown, said Dr. Chris Weaver, chief clinical officer. They are expected to remain there through mid-February, if not longer, he said.
Teams from the Indiana National Guard are also helping at an unspecified number of hospitals, he said.
About 70% of the COVID-19 cases at IU Health hospitals are patients who are unvaccinated, Weaver said. In the intensive care unit, that figure is as high as 90%.
Please enable JavaScript to view this content.