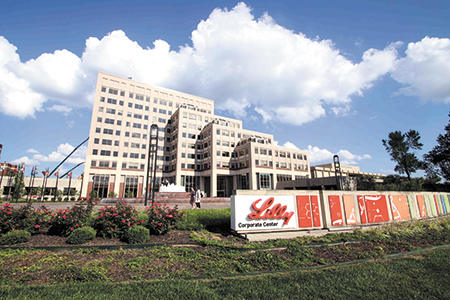 The sky is the limit for Eli Lilly and Co. stock, it seems, according to analysts' reports to clients in recent days, even though the stock is already trading near record highs.
It wasn't that long ago (summer of 2018) that shares of the Indianapolis-based drugmaker were limping along under $100, with analysts waiting for the company deliver on its much-touted pipeline.
But in the past few years, Lilly has turbocharged its research and development engine, launching at least nine new drugs for a raft of maladies, from cancer to migraine headaches. And shares of Lilly have soared as high as $374 in recent weeks.
Now, the company is preparing for one of its most ambitious years in memory for 2023, with plans to advance five new drugs into late-stage clinical studies and move four into regulatory review.
And analysts are continuing to urge investors to load up. Their recommendations come after Lilly held a conference call on Dec. 13 to lay out its financial guidance and update its plans for next year.
"Lilly's pipeline strategy is beginning to bear fruit," BMO Capital Markets analyst Keith Tapper wrote to clients, as he raised his target price (or prediction for the next 52 weeks) on Lilly shares from $396 to $410. He maintained his "outperform" rating.
J.P. Morgan analyst Chris Schott raised his target price on Lilly shares from $380 to $400 and maintained his "overweight" rating. He told clients the drugmaker has "significant momentum" with "robust margin expansion through rest of the decade."
Of the 22 analysts who follow Lilly, 13 have a "buy" or "strong buy" rating, eight have a "hold" rating and 1 has an "underperform" rating, according to Yahoo Finance.
UBS analyst Colin Bristow maintained his "buy" rating, but trimmed his target price from $428 to $420.
Credit Suisse analyst Trung Huynh told clients he was maintaining his prediction that Lilly shares could hit $400 within a year. He said shares could soar as high as $564 under a "blue sky scenario" that assumes increased sales and 100% pipeline success.
"The good news is this next generation of products has real differentiation potential, but these need significant investment, limiting margin expansion," Huynh wrote.
Indeed, Lilly is planning to invest heavily next year to move drugs into late-stage clinical testing and to launch and sell new drugs.
The company said plans to spend up to $8.4 billion on research and development in 2023, up from about $7.1 billion this year. Likewise, expenses for marketing, selling and administrative functions next year could climb as high as $7.1 billion, up from about $6.5 billion this year.
The company is forecasting that revenue will climb about 6% next year to a range of $30.3 billion to $30.8 billion.
Earnings per share, on a reported basis, for full-year 2023 will land in a range of $7.65 to $7.85, up from a projected range this year from $6.50 to $6.65.
Lilly's potential launches for 2023 are donanemab for Alzheimer's disease, mirikizumab for ulcerative colitis, lebrikizumab for skin clearance and itch, and pirtobrutib for cancer.
The company said it is lining up "potential regulatory submissions" to the U.S. Food and Drug Administration for several other drugs, including tirzepatide for obesity, which is already approved under the brand name Mounjaro for diabetes.
Shares of Lilly were trading at $356.38 Monday afternoon, down about 1%. Year to date, shares are up about 38%.
"Lilly is exiting 2022 with momentum," CEO Dave Ricks told investors last week. "Our approved and available medicines are early in their life cycles and showed accelerated growth during the year, led by a strong Mounjaro launch."
Please enable JavaScript to view this content.