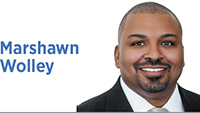 A Black agenda has been unfolding in this city for the last couple of years. While we've learned a lot and made progress on the Black community's objectives—there is still more work to do.
With many social and economic indicators going the wrong direction, Black leaders developed Black agendas that highlighted problems and focused on solutions. The decline of the Black community in Indianapolis portends negative consequences for not only the city, but also the region and potentially the state. The African American Coalition of Indianapolis' Community Concerns and Recommendations document was a robust response to statistical decline and an attempt to stave off community-wide demoralization. It would lead to the city's first mayoral debate on a Black agenda.
Originally, even Black politicians were nervous about a Black agenda. At least one asked if the AACI had engaged even 10% of the Black community in Indianapolis. A friendly observation that, as elected officials, there was a failure to meet that threshold silenced that concern.
Armed with data and a statistically significant survey sample of Black Indianapolis residents' thoughts on a Black agenda and one-on-one interviews and focus groups with various segments of the Black community—ranging from single parents to students, returning residents, entrepreneurs and young and emerging leaders—elders in the community supported the resolve to continue.
Progress is hard, and we've learned a lot.
As part of the Black agenda, there were things the AACI and Black leaders committed to doing for ourselves, while other objectives required advocacy from government.
Key objectives coming from Black leadership included advocating for the increased support of grassroots organizations. While the AACI advocated for the enhanced support of Black grassroots organizations through increased engagement efforts, AACI members also worked with the African American Legacy Fund of Indianapolis to directly support Black grassroots organizations through a collaboration with the IndyStar Season of Sharing program.
The AACI was a vocal advocate for police reform, specifically in the creation of majority-civilian Use of Force and General Orders boards. In addition, the organization advocated for a reform of the Citizens Police Complaint Board.
There had been a sustained grassroots push for the reinstatement of an Indianapolis Commission for African American Males for several years. A commission is now formed and operating.
We have raised the issue of racial achievement gaps in standardized testing throughout the county.
We also note now that, while the data is not disaggregated, the city does post on its website minority business enterprise spend data by government unit.
The city did develop a food fund and broader food strategy.
In a survey on how to improve upon the AACI agenda, Black Indianapolis residents also called for a Black-led Community Development Financial Institution. Equity1821, a Black-led loan fund that will seek CDFI status, is a response to that request.
There is clearly more work to do. And it has been an incredible learning experience. The Black community is not monolithic, so there are other Black agendas. The AACI never claimed to be "the" Black agenda.
In some ways, we probably could've been more ambitious in the original drafting, but we learned that lesson quickly. We also learned that you shouldn't let the good be the enemy of the perfect, because you might inspire others.
What is important is that the work continues, and that the community knows a Black agenda is still at work in the city.•
__________
Wolley is President and CEO of Black Onyx Management, Inc. Send comments to ibjedit@ibj.com.

Click here for more Forefront columns.
Please enable JavaScript to view this content.