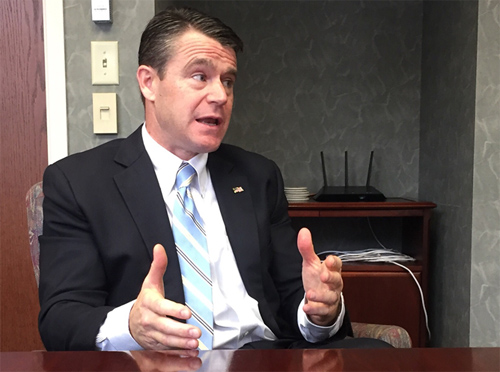 U.S. Sen. Todd Young is joining efforts in Congress to help with the country's growing supply chain crisis, sponsoring legislation that would enhance government oversight and data on shipping and streamline certification requirements for truck drivers.
Young, an Indiana Republican, is among six GOP senators on the U.S. Senate Committee on Commerce, Science, and Transportation who filed the Facilitating Relief for Efficient Intermodal Gateways to Handle Transportation, or FREIGHT, Act.
"We must work to reduce congestion throughout the entire supply chain by alleviating pressure points at our ports and in our freight transportation system that are harming Hoosier businesses," Young said in a statement. "The FREIGHT Act will address a number of these root issues at the Federal Maritime Commission and the Department of Transportation."
Young's support of the bill comes after he voted against the sweeping $1.2 trillion infrastructure package, which included $17 billion in additional funding for ports and a supply chain-related measure Young had long championed. Young supported the infrastructure bill in earlier test votes but said he ultimately wasn't convinced the package was "fiscally responsible."
Much of the FREIGHT Act is aimed at addressing the lack of data-sharing that can cause delays and inefficiencies as cargo moves from one part of the supply chain to another.
The measure establishes new studies for standardizing documents and data and requires the  collection of public data on "dwell time" for shipping equipment.
It also would create a Department of Transportation grant program for port-related stakeholders to standardize the terms they use in their documents and operations and how they communicate with each other about the moving of freight.
Under the bill, the Federal Maritime Commission would be required to add seven new positions to expand oversight of ports. The Bureau of Transportation Statistics would be required to collect and produce statistics on equipment "dwell time," which would show how long intermodal equipment like chassis and containers are in use or under repair.
The FMC would be authorized under this legislation to mandate ocean carriers or marine terminal operators to share information relevant to the movement of goods, if the FMC determines that an emergency exists and that information would help freight movement.
The introduction of this legislation comes as President Joe Biden is also working to fight the supply chain battle.
His administration has implemented plans to clear clogged freight channels, calling for 24-hour dock work and standardized data exchanges on cargo movement.
Biden also has touted the $1.2 trillion infrastructure improvement plan as a way to ease the transportation of products and supplies from overseas and within the U.S. to help lower prices, reduce shortages and add jobs.
A spokesperson from Young's office told IBJ that Young and other Republican senators plan to send a letter to Biden asking his administration to testify before the Commerce and Transportation Committee about supply chain issues in an effort to craft bipartisan solutions.
Earlier this year, Young led the way for legislation that allows younger truck drivers to be involved in interstate shipping. That measure ended up in the infrastructure bill—which he ultimately voted against.
Young's DRIVE-Safe Act creates a three-year pilot apprenticeship program that allows commercial truck drivers 18 years and older to drive across state lines. In most states, people under 21 can receive a commercial driver's license, but federal regulations restrict them from driving across state lines. Young had introduced the legislation for a third time this year with bipartisan backing.
He has said the DRIVE-Safe program would address the ongoing trucker shortage and relieve some of the bottlenecking in the supply chains. A report released in October by the American Trucking Associations estimated that the industry is short 80,000 drivers and that number is expected to double by 2030 when more drivers retire.
"Today, 18-year-olds can drive more than 200 miles from New Albany to Gary and back, but they aren't allowed to drive two miles from New Albany to Louisville," Young had said in a previous statement. "The DRIVE-Safe pilot program will address the driver shortage, provide new career opportunities for young Hoosiers and Americans, and make the roads safer."
Young's spokesperson said Young did "heavy-lifting" to get the act through the Senate, placing it into the Surface Transportation Reauthorization bill to extend regular annual federal road funding when it was in committee in June.
That bill was then folded into the infrastructure bill.
The Associated Press contributed to this report.
Please enable JavaScript to view this content.