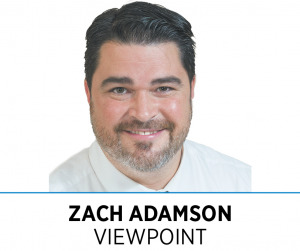 It's been nearly two years since the Indy Pride board issued a statement effectively severing its relationship with the Indianapolis Metropolitan Police Department, citing incidents of police harassment and violent arrests that occurred during the May 2020 protests and a desire to stand in solidarity with the city's BIPOC community and Black Lives Matter.
Taking things one giant step further, the statement "respectfully requested" that LGBTQ+ members of law enforcement not wear their uniforms to future Indy Pride festivals or events.
I disagreed with those actions then, and I disagree with them now.
To be clear, allyship with organizations working to dismantle systemic racism is imperative. I commend Indy Pride for its efforts to lift up the voices of Black and brown people in our community and to center its work around the leadership and experiences of people of color.
But the stand Indy Pride has taken goes well beyond allyship. Even Indiana Black Expo and The Circle City Classic have not gone so far as to completely sever their relationship with law enforcement or discourage Black members of law enforcement from appearing at their events in uniform. Instead of using their platform and position with the community to create opportunities for dialogue, relationship-building and progress, they chose to add to the divisiveness preventing a productive social discourse lacking both here at home and across the country.
The divide Indy Pride created between itself and IMPD has gone on to cause many other divisions within Indy's LGBTQ+ community. LGBTQ+ members of IMPD fought with the city and the department for years to win the right to appear in uniform at Pride events, only to have Indy Pride now turn its back on them. Large segments of the gay community are choosing to boycott Indy Pride in response to these actions, and many more are disillusioned that an organization whose mission is to "achieve inclusivity, equality, strong community connections, and awareness of LGBTQ issues" is now actively excluding members of its own community and breaking what had become a strong community connection with many in local law enforcement.
Much to its credit, IMPD has continued to find ways to work with the LGBTQ+. This year, IMPD is creating a full-time position for a sworn officer to act as a liaison to the LGBTQ+ community. It continues to support and celebrate the Pride movement as well as LGBTQ+ individuals inside the department and throughout the community with the hash tag #policingwithpride during Pride month and accompanying T-shirt campaign. With the help and support of the City-County Council, IMPD has also implemented multiple reforms, including body-worn cameras and a new Use of Force Review Board, aimed at increasing transparency and addressing abuses of power.
Many members of the LGBTQ+ community know all too well the pain of severed relationships with loved ones who have chosen to exclude us from their lives or deemed us somehow unworthy of having a relationship with them. It is my understanding that new Indy Pride leadership has had the opportunity to examine the organization's position over the last few years and have taken steps to rebuild the relationship with law enforcement. The reality is, we cannot approach the robust issues we face as the community versus law enforcement. It is possible to support both IMPD and the BIPOC and LGBTQ+ populations. In fact, I believe that is the only way we will be able to have the hard conversations and build solutions. I urge Indy Pride to continue to use their platform to bring people and organizations together. Although progress at times can seem to take longer than we'd like, without an ongoing relationship, there can be no progress at all.•
__________
Adamson, a Democrat, represents District 17 on the City-County Council. Send comments to ibjedit@ibj.com.
Please enable JavaScript to view this content.