Indiana Democratic Party Chairman John Zody does not plan to seek another term as the leader of the party after years of tough election losses.
Zody, who has been the party chair since 2013, told reporters on Friday morning that he will finish his term through March and then help the party reorganize its leadership.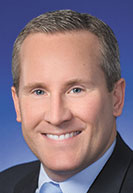 "Win, lose or draw, after eight years it's a long time," Zody said. "I am as much of an advocate as anyone for fresh perspectives. … I'll be moving on after March."
On Tuesday, Democrats lost the governor's race, the attorney general's race and the 5th Congressional District, even though political pundits believed it was leaning Democratic. The party also lost seats in the Indiana General Assembly, allowing Republicans to strengthen their supermajority in the Indiana House.
Zody is resisting any suggestion that he step down prior to March, saying it's "inconsequential" whether he leaves tomorrow or in several months when his term ends.
He said anyone who is interested in running for party chair should speak up and start to discuss their vision for the party. But he declined to comment on any specific characteristics that party leaders should seek in the next chair.
"I'm not going to start speculating on who the next chair is going to be," Zody said. "All I know is it needs to be someone who is willing to roll up their sleeves and do a lot of work. This job requires a lot of work."
The State Central Committee of the Indiana Democratic Party is responsible for electing the next chair.
Democrats picked up two seats in the Statehouse this year—in House District 89, Democrat Mitch Gore beat Republican incumbent Cindy Kirchhofer, and in Senate District 30, Democrat Fady Qaddoura beat Republican incumbent John Ruckelshaus.
But Republicans flipped five House seats, so the GOP has a net gain of four seats in that chamber.
Indiana Democrats also struggled in 2018, when former U.S. Sen. Joe Donnelly lost his seat, making it so the party no longer controlled any statewide elected offices. And that was in a year that Democrats performed well nationwide.
In 2016, the party lost the governor's race, the U.S. Senate race and the superintendent of education race. In 2014, Democrats lost in three statewide races.
On Friday, Zody said he was disappointed by the results this year, but argued that the northern suburbs of Indianapolis are still shifting in their political flavor and that Democrats are competing in the right places.
"There are trends here," Zody said. "We just didn't get there this year."
Zody mostly blamed losses on Republican President Donald Trump's popularity. Trump won Indiana by about 16 points.
"It ended up being a tough year for us," Zody said. "We just gotta keep slogging away here."
Please enable JavaScript to view this content.