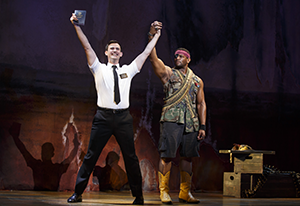 After my third visit to "The Book of Mormon" (the national tour of which is stationed at the Murat Theatre through April 17) neither my opinion nor the show has changed much.
For those who either haven't made it yet or have been scared off by its well-earned "are you easily offended?" reputation, "The Book of Mormon" tells the musical story of a pair of missionaries assigned to spread the word about the Church of Jesus Christ of Latter Day Saints to a village in Uganda. Like some other musicals, it's about would-be teachers who learn from the locals.
But "The King and I" this isn't. Images of a "Lion King"-like Africa give way quickly to harsh realities. The optimistic young men find themselves surrounded by AIDS-ridden locals, a vicious warlord and, in a great visual gag to underline their transition, a zebra corpse hauled across the stage.
What happens next—including the would-be AIDS cure, the translation of the catchy "Hakuna Matata"-like ditty the villagers sing, and the place where a "Book of Mormon" gets uncomfortably lodged—is best left to your own discovery when you see the show.
This time around, I'm still a bit in awe of the way the musical smartly and slyly ingratiates even its more sensitive audience members into its world, still impressed by its how-did-they-get-backers-for-this storyline, and still not sure that many in the audience realize that this isn't a show that's about mocking Mormons. Instead, it's a savvy take on how religion--regardless of roots in fact--can be a balm for the disenfranchised. It's a musical about the power of metaphor.
The tour now has a much funnier Elder Price (Ryan Bondy) then the last time it circled through Indy. And the supporting cast remains strong. But its Elder Cunningham (Cody Jamison Strand) has a habit of going shrill in his speech, a problem accentuated by a bad sound mix. Seat neighbors corroborated that much of his dialogue was lost and there are few things that hurt a comedy more than having to strain to hear the lines. I'm glad to see that all Elder Cunninghams aren't cast or played the same way in the world of BOM tours, but I prefer him more innocent and less in need of a med readjustment.
More annoying was the parade of latecomers arriving in the theater well into the show, seemingly oblivious to the fact that others were trying to engage with the talent onstage. Since many of them had drink cups in hand, I'm assuming they either were at a party in the building or refused to leave the bar when the lights were blinked. An unlikely proposal: How about shutting down the bar three minutes before curtain?