Take heart, Zionsville: Bub's is coming soon.

Crews are hard at work on a 5,000-square-foot outpost for Carmel-based Bub's Burgers and Ice Cream, which could open next month.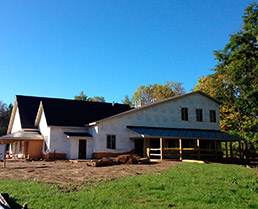 Bub's outdoor dining area overlooks wood-lined Eagle Creek.(IBJ staff photo)
Bub's will anchor a three-building commercial center on South Main Street near 106th Street. The stand-alone restaurant includes outdoor seating on a covered deck overlooking Eagle Creek. (BYO bug spray.)
Anticipation has been building since the popular eatery signed on for the $3 million South Village of Zionsville West project last year. And developer Bob Harris said landing the burger joint helped attract tenants for the second building, under construction now.

Zionsville-based Confectioneiress Cupcakes & Sweets plans to open a second location in the 7,000-square-foot structure, Harris said, joining East Coast deli Sub Sixteen, Village Cleaners and Storen Financial Group. A fifth storefront is still available.

On the other side of Main Street (until recently known as Zionsville Road), Kite Harris Development is working on a 16,000-square-foot office building. Carmel-based Teays River Investments plans to move its headquarters there, Harris said, but about 4,000 square feet is available for other users.

Tenants in an existing retail building on the property include Wildcat Creek Outfitters, Peace Through Yoga and Zionsville Flower Company.

The Harris family has owned the land since for more than 50 years. Patriarch Tom Harris ran a Chevrolet dealership on the eastern parcel and a used-car lot on the western property. Harris Family Limited Partnership also owns eight commercial buildings in downtown Zionsville, said Harris, the firm's managing partner.

Harris teamed up with local real estate veteran Paul Kite on the project, which the town supported last year with a $250,000 grant from the Zionsville Redevelopment Commission. The development is expected to add $6 million in assessed value.

"I believe Zionsville is the next frontier" for development," Harris said, citing town leaders' recent decision to encourage commercial development in the predominantly residential community.

Indeed, activity is heating up. Pittman Partners, another longtime property owner, is planning a mixed-use development at the southwest corner of Michigan Road and Sycamore Street on the town's eastern edge.

And as IBJ reported in July, a developer has a key parcel at the corner of Main and Sycamore under contract. (IBJ subscribers: Read more about that project here.)

The South Village project is seen as an important link between the historic downtown and the newly named Creekside Corporate Park—80-plus acres of land straddling 106th Street that the town bought this year to spur office development.

Zionsville also is working on a downtown market and parking study, intended to identify ways to strengthen its quaint business district. (Monday is the last day to participate in a related consumer survey. Share your thoughts here.)

What do you make of the town's efforts to diversify its tax base?