Hamilton County is opening early-voting centers for the first time this year in Fishers and Carmel.
In addition to offering early voting at the Hamilton County Judicial Center in downtown Noblesville, the county will open satellite voting centers at the Carmel Clay Public Library and Fishers City Hall.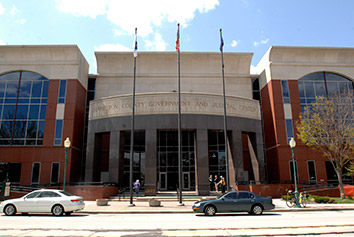 Early voting for the Nov. 8 election begins Oct. 12, and turnout in the county is predicted to be at least 65 percent this year.
In the May primary, turnout was 47 percent, with 11,700 voters casting ballots before Election Day. If the general election is similar to previous years with presidential races, the number of early voters could triple the May number.
During the last presidential election in 2012, turnout was 69 percent. About 30,100 of 138,250 voters cast ballots early.
In 2008, voter turnout was 75 percent, with 32,700 of 130,800 ballots cast early.
The hotly contested presidential election, along with close Indiana races for governor and U.S. senator, are expected to draw more people to the polls this year.
Local races in Hamilton County may also create higher turnout. The heavily Republican county typically doesn't have many contested races in the fall, but Democrats managed to fill the ballots for local offices this year.
County Elections Administrator Kathy Richardson said the increasing number of voters and higher turnout led to the decision to expand early-voting options for residents. Fishers and Carmel were selected because those are the two largest cities in the county by population.
Richardson said if the satellite early-voting centers run smoothly this year, the options could be expanded for future elections.
Starting Oct. 19, the Fishers and Carmel voting centers will be open Wednesday through Saturday for the three weeks leading up to Election Day. The Noblesville voting center will be available Monday-Saturday, except for Oct. 15.
Each satellite center will have six poll workers and five machines. Richardson estimated the cost for taxpayers will be a minimum of $20,000 for the two locations.
"Election Day will be busy, (and) the last two weeks of early voting will be busy," she said. "Generally, the first two weeks of voting you can get in and out without a wait."
The deadline to register to vote is Oct. 11.