•The Thirsty Scholar, a coffee, beer and wine bar, is expected to open sometime next week at the corner of 16th and Pennsylvania streets in the Penn Arts building owned by developer Christopher Piazza. The Scholar is Piazza's first food and beverage concept, and will be operated with business partner Kevin Schmidlin.

The 900-square-foot space will feature a historically designed bar, marble top, a classical checkered floor and restored light fixtures.

"It has a quirky edge to it," Piazza said. "It's not like it's high-brow, it's eclectic."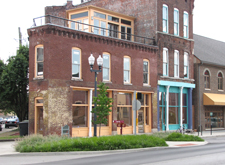 •Liberty Street Pub is set to open in the fall in the building (right) at 659 Massachusetts Ave. formerly occupied by Yats. It is moving up the street to the Trail Side building and should open yet this summer. Liberty Street is the creation of Shawn Miller, who owns the building on Mass Ave and also operates Dorman Street Saloon at 901 Dorman Street on the near-east side.

The Liberty Street moniker pays homage to the original name of Park Avenue, which intersects Mass Ave where the bar will be located on the southwest corner.

•Piada Italian Street Food, a fast-casual Italian eatery featuring hand-rolled piadas, pasta bowls and chopped salads, received zoning approval Tuesday to build a restaurant at The Shops at River Crossing. Construction on the restaurant, which will be located in the southwest corner of Barnes & Noble's parking lot, should start later this year.

The Columbus, Ohio-based chain was founded in 2010 by Chris Doody, also a founder of the Bravo! Cucina Italiana chain. Piada has 10 locations in Ohio.

•Pizzology Pizzeria & Pub is close to signing a lease to open a restaurant on Mass Ave and could be taking the space occupied by Aesop's Tables at 600 Mass Ave., according to the Star's Jolene Ketzenberger. Local restaurateur and chef Neal Brown launched the pizza concept in Carmel in 2009 and had intended to open his second location at Nora Plaza but could not finalize a lease.

•Granite City Food & Brewery is set to open July 24 in the former Bella Vita space within Circle Centre Mall. The brewpub will have frontage on South Illinois Street between Ruth's Chris and P.F. Chang's.

This will be the St. Cloud, Minn.-based chain's second in the area, joining a restaurant at Meridian and 96th streets.

•Firehouse Subs is slated to open a shop within 2,500 square feet at 47 S. Illinois St., formerly occupied by Einstein Bros Bagels, before it moved to the southwest corner of Market and Pennsylvania streets in December. The downtown Firehouse sub shop will be operated by franchisee Michael Harmon, who owns locations in Broad Ripple and Noblesville.

•Side Street's American Grill opened July 12 at 5130 W. 38th St. within the International Marketplace. Owners Dennis Wheaton Jr. and Cheryl Wheaton previously operated Side Street Deli at 2066 N. Illinois St. and Side Street Grille at 135 N. Pennsylvania St.

•Marco's Pizza has reopened within 2,150 square feet of space, at the new Broad Ripple Garage & Shoppes at College Avenue and Westfield Boulevard in Broad Ripple. Marco's was located at the intersection before the parking garage was built.

•Forever, Heather has opened within Concourse B of the Indianapolis International Airport. The independently owned retailer, founded in Fairfax, Va., designs and sells its own line of women's clothing, jewelry and accessories.