Riley Area Development Corp. is planning significant upgrades to Davlan Park, a well-used—and well-worn—pocket park along Massachusetts Avenue.
Riley is the majority owner of the 10,000-square-foot park, which occupies the point where Massachusetts Avenue intersects with Vermont and Alabama streets. Riley is also the majority owner of the adjacent Davlan Building, which houses both residential and commercial tenants, including Bru Burger restaurant and a Starbucks coffee shop.
"This park has now been there for about 20 years, and it's time for a refresh," said Riley board member Meg Storrow. Storrow is a principal at the Indianapolis landscape architecture firm Storrow Kinsella Associates, which is the project's designer.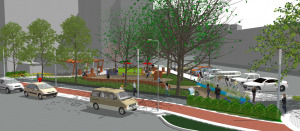 The goal, Storrow said, is to secure bids over the winter and begin construction in the spring, with project completion in Summer 2021.
The project, estimated to cost about $100,000, will include multiple components: two decks providing additional outdoor seating for Bru Burger and Starbucks; new landscaping, including replacement of three trees; a busker station where live musicians can perform; additional park seating; and a space for bicycle and scooter parking.
The project will also remove worn-out turf and replace it with a permeable paving material.
Brickhead 3, a sculpture and Mass Ave landmark, will remain in place in the park.
Following the updates, the park will be renamed Davlan Point.
A separate part of the Davlan Park project involves new signage for the Indianapolis Cultural Trail, which runs adjacent to the park along Alabama Street.
For that part of the project, Storrow said, the Cultural Trail and the Central Indiana Community Foundation plan to install interpretive trail signage at the park, and relocate a trail donor recognition sign created by Vito Acconci. That sign currently hangs along another section of the Cultural Trail, in the tunnel that passes through the Virginia Avenue parking garage.
The estimated cost of relocating and reinstalling the Cultural Trail signage will cost another $75,000 Storrow said, and the timing of that part of the project depends on how quickly the Cultural Trail can raise the money for that effort.
Also this week, we have news about a couple of departures at City Market, 222 E. Market St.
— The crepe shop 3 Days in Paris closed its booth in mid-November after a nine-year run at the market.
"Due to reduced traffic caused in large part by the pandemic it is not financially feasible for us to continue operations at this time," the business announced on its Facebook page Nov. 16. The business said it is working to continue operations in some fashion, though it hasn't yet announced details.
"STAY TUNED—Hopefully after the beginning of 2021 we will be offering the 3 Days in Paris crepes in a new location. GO AWAY COVID!" the business posted on Nov. 21.
— And The Tamale Place says it plans to depart later this month—Dec. 23 will be its last day at its City Market. Its west-side store, at 5226 Rockville Road, will remain open.
Owned by the husband-and-wife team of Angela Green and Vladimir Ronces along with Green's mother, Leora Green, The Tamale Place opened its first store in 2003. In 2014 it opened at City Market and at 1155 E. Stop 11 Road. That store closed earlier this year.
Finally, reopening updates on two downtown restaurants that are currently closed:
— The sports bar and restaurant Champps, in Circle Centre Mall at 49 W. Maryland St., expects to reopen some time after the holidays. Matt Stelletell, the district manager who oversees the restaurant, said the company hasn't set a firm date yet but plans to reopen "as more opens up around us."
— At Greeks Pizzeria, 130 N. Delaware St., franchisee Josh Trisler said he's considering ideas for how to reopen. "We are working on figuring out a way to stay there at some capacity," Trisler told IBJ in an email. "Perhaps a food truck commodity or just lunch pickup/delivery location. Downtown is still struggling without its industry leaders back at work." The store opened in late 2018.
Please enable JavaScript to view this content.