About
Events
Features

A patient's journey
Beating breast cancer is just part of the fight
More people with breast cancer are going from 'newly diagnosed' to 'survivor'
Breast cancer screening protocols can't rely on the averages
Cancer Action Network widens access to care
Breast-cancer care makes big strides
Your support is more critical than ever
7 things to know about getting a mammogram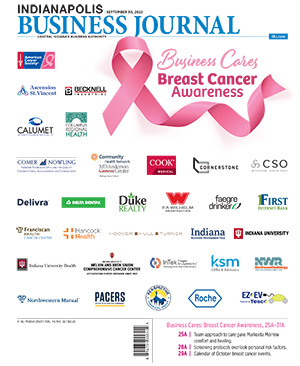 Welcome to IBJ's 2022 "Business Cares: Breast Cancer Awareness" microsite
This year we feature several informative and encouraging accounts of progress in the prevention and treatment of breast cancer.
We take you through one woman's positive experience with team care provided by the Community Health Network MD Anderson Cancer Center.
An IU Health breast oncologist warns against relying on averages when it comes to screening for breast cancer. Early detection requires a deeper dive into your personal risk factors.
A local breast cancer survivor says equitable screening and treatment options are the best way to increase the number of breast cancer survivors.
At Franciscan, a highly decorated cardio-oncology team is improving outcomes and saving lives.
A breast oncologist at Ascension Medical Group recaps some of the biggest technological advancements in the treatment of breast cancer over the last 10 years.
The American Cancer Society Cancer Action Network is focusing on better access to care, especially in rural areas.
Susan G. Komen has seen a dramatic increase in the number of women who need financial support to get the breast cancer care they need.
Thanks to the 31 companies and organizations listed below that sponsored this important section of IBJ. Their investment will fund a Breast Cancer awareness campaign throughout the month of October via print, digital and e-newsletter platforms.
And thanks to our readers. We hope you'll support our sponsors as they join all of us in working to improve awareness and treatment of breast cancer.

Nate Feltman
Publisher, President & CEO
Breast Cancer Events in Indy
ONGOING EVENTS
Retail
The Fashion Mall at Keystone, Greenwood Park Mall and Castleton Square announced their Susan G. Komen® 2022 campaign, Shop with Purpose, that supports the fight against breast cancer. During the month of October, customers making a $10 donation to Susan G. Komen® will receive a digital Discount Pass, valid for up to 25% off at participating retailers.
Retailers will be honoring the Discount Pass and engaging in a range of activities throughout the month of October in support of Susan G Komen®.
Participating retailers at The Fashion Mall at Keystone include Brooks Brothers, J. Jill, Coach, J.Crew and many more.
Participating retailers at Greenwood Park Mall include Sunglass Hut, Coach, Express, Helzberg Diamonds and many more.
Participating retailers at Castleton Square include Build-A-Bear Workshop, Express, Forever 21, Rogers & Hollands Jewelers and many more.
Digital discount passes are available for purchase at The Fashion Mall at Keystone, Greenwood Park Mall, Castleton Square and via www.simon.com/sgkdonate, while supplies last. One hundred percent of donations go to Susan G. Komen®.
Wellness Classes
Gentle Yoga
Mondays at 5:30 PM. A 60-minute class to increase flexibility and strength while decreasing stress and toxins. All fitness levels welcome. Modifications offered. Visit ECOMMUNITY.COM/SURVIVORSHIP or call 317.621.4961 for information and registration.
Gentle Cardio & Strength Building
Tuesdays at 5:30PM. A 45-minute class with light cardio, strength training, and stretching exercises. All fitness levels welcome. Modifications offered. Visit ECOMMUNITY.COM/SURVIVORSHIP or call 317.621.4961 for information and registration.
Guided Meditation
Thursdays at 5:30 PM. Find a place of peace and mental calmness with this 25- 35-minute relaxation technique using breathing and mental images. Visit ECOMMUNITY.COM/SURVIVORSHIP or call 317.621.4961 for information and registration.
Support Groups
Patient Support Group
Second and Fourth Wednesdays at 6 PM. Please call 317.257.1505 for information and a brief interview. You will receive a link to join.
Women's Support Group
First Tuesdays at 6 PM. Please call 317.257.1505 for information and a brief interview. You will receive a link to join.
Metastatic Cancer Support Group
Second Thursdays at 6:30 PM. Please call 317.257.1505 for information and a brief interview. You will receive a link to join.
Survivorship Support Group
Fourth Thursdays at 6:30 PM. Please call 317.257.1505 for information and a brief interview. You will receive a link to join.
DATE-SPECIFIC EVENTS
SATURDAY, OCT. 1
Pink Ribbon Connection Stars of Pink Fashion Show
Oct. 1, 10 AM to 2 PM, downtown Indianapolis. Breast cancer survivors and advocates will share their stories and walk the runway at an inspiring fundraiser fashion show and luncheon. Learn more at PinkRibbonConnection.org or call 317.255.7465.
MONDAY, OCT. 3
Nutrition Wellness
Oct. 3, 6:30 PM. Join Medical Nutritionist Jodi Smith as she discusses what nutrition looks like in survivorship. Learn what to eat and what to avoid during and after cancer treatment and how to incorporate tasty, nutritious foods into your everyday diet. Visit ECOMMUNITY.COM/SURVIVORSHIP or call 317.621.4961 for information and registration.
THURSDAY, OCT. 6
Indiana Women in Need Foundation Game Night
Oct. 6, 6 PM to 9 PM, The Fowling Warehouse, 1125 Brookside Ave., Indianapolis. Enjoy an evening of games, food and fun at this fundraiser supporting breast cancer patients statewide. Learn more at IWINFoundation.org or call 317.475.0565.
FRIDAY, OCT. 7
Art Therapy
Oct. 7, 1 PM. Visit FAITH@CANCERSUPPORTINDY.ORG for more information.
SATURDAY, OCT. 8
Indianapolis MORE THAN PINK Walk
Oct. 8, 10 AM, Celebration Plaza at White River State Park, Indianapolis. Visit KOMEN.ORG to register and for more information.
SATURDAY, OCT. 8
Outrun the Sun Race Against Melanoma
Oct. 8, 4 PM to 10 PM, Lawrence. Participate in a 5K run, 5K run/walk, or a 1-mile fun walk around the Lawton Loop to benefit melanoma research. Learn more at Facebook.com/OutruntheSunInc or call 317.253.2121.
MONDAY, OCT. 10
Living with Intention
Oct. 10 and Oct. 17, 6:30 PM. This is a two-part virtual group discussion focusing on how to improve spiritual health through the practice of Living with Intention. Learn about intention as a core element of spiritual health and discover tools that can be used to renew your sense of purpose through the ups and downs of life. The course is open to all worldviews, whether religious or not, because the way people experience meaning in life is individual to each person. Visit ECOMMUNITY.COM/SURVIVORSHIP for registration and link.
SATURDAY, OCT. 15
Wabash Valley MORE THAN PINK Walk
Oct. 15, 10 AM, St. Mary of the Woods College, Providence Center, Terre Haute. Visit KOMEN.ORG to register and for more information.
THURSDAY, OCT. 20
Music Makes a Difference Concert
Oct. 20, 8 PM, Eight Seconds Saloon, 111 N. Lynhurst Drive, Indianapolis. Hear Joe Nichols, Easton Corbin and Thompson Square in concert to benefit the Franciscan Health Foundation and its cancer patient assistance fund. Learn more at HankFM.com.
A patient's journey
Team approach gave Markeeta Morrow comfort and healing
Content provided by Community Health Network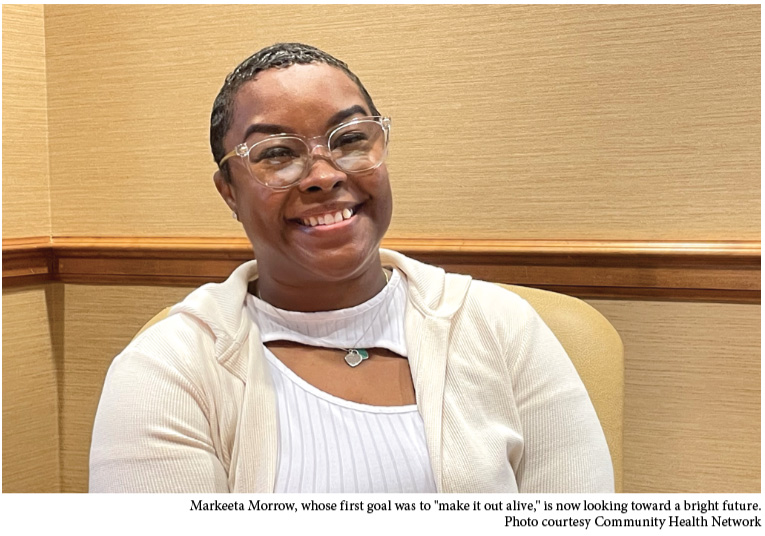 Markeeta Morrow was just 33 years old when she felt a lump in her left breast last summer. The daughter of parents who had both been adopted, Morrow didn't know about her family's medical history. But as the single mother of three boys, she knew she needed to get this checked out.
Morrow contacted her primary care doctor, who was also concerned about the lump. It took about two months of trying to get in for an appointment and testing before she learned she had breast cancer. That was on August 31, 2021.
"I was a wreck when I got the phone call," said Morrow. She immediately reached out to her best friend, Ashley, a nurse at Community Health Network. Within days, Morrow was in a conference room at the Community Health Network MD Anderson Cancer Center meeting with her cancer team.
Morrow was diagnosed with triple negative breast cancer, an aggressive disease that impacts black women at twice the rate of white women and often at a younger age. Morrow was in stage two.
"Triple negative breast cancer is not just triple negative breast cancer. This is triple negative breast cancer for Markeeta," said Dr. Anuj Agarwala, medical oncologist. He along with Dr. Nate Thepjatri, breast surgeon, and Natalie Newman, nurse navigator, formed the team that initially met with Morrow.
Community MD Anderson creates a treatment plan with a team approach called multidisciplinary care. It brings together medical experts in the fields of chemotherapy, surgery, radiation, genetic testing and any other discipline needed on a case-by-case basis.
"When we all get together and she sees that, hopefully that gives her some sense of comfort. But I also think it's important for all of us to assure her that we are communicating," said Dr. Agarwala. "It gives us the opportunity to kind of formulate a plan specific for her cancer that we feel will give her the best outcome and results," said Dr. Thepjatri. For Morrow, because of the size of the lump, chemotherapy was needed to shrink it before surgery.
Natalie Newman worked with Morrow on scheduling appointments in an effort to limit the disruptions to her life. Morrow says in this initial meeting she felt numb and was still in shock from the diagnosis, but she left knowing she had a team to help and support her.
The next week, Morrow began 24 weeks of chemotherapy. She started losing her hair within a month, deciding to cut it all off instead of finding it on her pillow. Morrow came down with COVID during her chemo. "There would be times that I would just put a blanket in my one-year-old's room and I would just lay on the floor. That way I was close to him, I could see him, but that was really all I could do."
Throughout this difficult time, Morrow relied on her faith, family, friends, and her Community MD Anderson team. "I felt like I was their only patient a lot of the time because I see them so much. A lot of times you go to your doctor, you don't really see who your doctor is, just maybe the nurse or who they have at the front desk, but I see them all the time. Even if it wasn't like a scheduled thing, Dr. Agarwala still stops in. He'll pull the curtain back, 'Hey, how're you doing?.'"
The nurse navigator became a constant companion, guiding Morrow through the treatment process. "They come in and they meet with the surgeon and they may not realize they have all these doctors involved in their care and it's already an overwhelming situation. So, we say we're there to connect all the dots, but most importantly to be a constant, so they've got a familiar face following them throughout their care," said Newman. She introduced Morrow to additional team members, including a genetic counselor.
Testing found that Morrow had the PALB2 gene, which carried with it the high risk of a second breast cancer diagnosis. With this knowledge, the team discussed the next step of treatment with Morrow. Chemotherapy had destroyed the cancer cells but with the threat of recurrence, Morrow opted for a double mastectomy. The procedure included partial reconstruction and the addition of Dr. Andrew Cohen, plastic surgeon, to the team.
In April 2022, Dr. Thepjatri performed the surgery, greatly reducing the risk of recurring breast cancer for Morrow. Because of the success of chemo and the surgery, the team, now including a radiation oncologist, determined that radiation was not needed. However, the treatment plan included immunotherapy, the use of medicines to help a person's immune system recognize and destroy cancer cells more effectively. Every three weeks, Morrow goes in for immunotherapy. Her last treatment is scheduled for October 3.
Morrow's goal at the start of this journey was to "make it out alive." Now, an end is in sight. Reconstructive surgery is still in her future, but the prospect of putting this cancer diagnosis behind her has begun.
That was apparent when Morrow met the core team recently in the same conference room at Community MD Anderson where she began this journey a year ago. This time, though, there were smiles, hugs, and talk of Morrow's upcoming trip to Jamaica. It was a celebration of a life saved and a bright future ahead…a team victory. "With my children, with my boyfriend, with my best friend, and with my team, it was just like, hey, it's going to be a tough road, but we're going to come out of it on the other end…and we did." •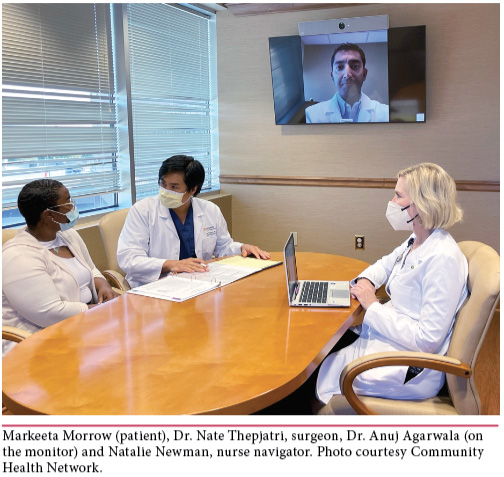 Beating breast cancer is just part of the fight
Guarding against heart disease is a key to surviving and thriving
By Kathy Keadle
Thanks to advances in cancer treatments over the years, cancer survival rates for a range of cancers—including breast cancer—have improved tremendously.
Unfortunately, not all the news has been good.
Some cancer therapies that are effective in the treatment of cancer can increase the risk of cardiovascular disease. This phenomenon, called cardio-toxicity, is especially prevalent in breast cancer survivors.
According to a scientific statement from the American Heart Association in 2018 titled Cardiovascular Disease and Breast Cancer: Where These Entities Intersect, older postmenopausal breast cancer survivors have a significantly increased risk of developing life-threatening heart disease compared to women without a history of breast cancer. According to the AHA, this increased risk calls for the early recognition and treatment of heart disease risk factors in breast cancer survivors.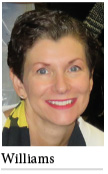 Franciscan Leads in Cardio-Oncology
Cardio-oncology is a relatively new field of medicine that focuses on the relationship between cancer and cancer treatments and the effects these can have on the heart. Breast cancer patients are particularly vulnerable to heart damage if they receive one of two standard chemotherapy drugs, Doxorubicin and Herceptin, which have been shown to affect heart function. Radiation of the chest, especially in women being treated for left-sided breast cancer, can also have a toxic effect on the heart.
Since 2016, cardiologists and oncologists at Franciscan Health have worked together to monitor and treat cancer patients whose therapies—including chemotherapy, medications and radiation—may inadvertently impact heart function.
Recently, Franciscan Health joined an elite group of institutions when it was named a Gold Center of Excellence by the International Cardio-Oncology Society.
"The Franciscan Health cardio-oncology team impressed our review committee not only with its care and dedication to research but also by its quality improvement projects," said Stephen Casselli, PhD, executive director of the International Cardio-Oncology Society.
According to the society, 19 programs across the globe have earned its Center of Excellence status. Of those, 15, including Franciscan Health, have received its top Gold-status recognition.
"This Gold Center of Excellence status is a testament to the hard work of our outstanding cardiology, oncology, and Franciscan administrative teams," said cardiologist and medical director Dr. Vijay U. Rao, PhD. "This is an exciting area of study, and I am blessed to work with such talented colleagues."
How It Works
Franciscan Health assembled a multidisciplinary team of cardiologists, medical and radiation oncologists, nurse navigators, pharmacists and other specialists to provide comprehensive cardiovascular care to cancer patients who have, or are at risk for, heart and vascular disease.
The team tackles this work by first assessing patients for early identification of cardio-toxicity risk prior to the start of cancer treatment and by managing cardiovascular care for those with pre-existing heart disease.
The team monitors patients throughout their cancer treatments to help prevent cardiovascular complications, and then the team assesses long-term cardiac risk for survivorship planning.
Rao credits the nurse navigators, who shepherd patients through their journeys, for making the program such a success. In fact, the program received the national Association of Community Cancer Centers 2020 Innovation Award for the role of the cardio-oncology nurse navigator.
More than 1,000 patients have been monitored and treated through the Franciscan Health cardio-oncology program. Because cardio-oncology is such a new field of medicine, research at all levels is important, and the Franciscan team leads multiple research programs and clinical trials. In fact, four program clinicians had an article published in the June 2021 Journal of the American College of Cardiology.
"Quality improvement has played a major role in our successes with patients," said Dr. Meghana Raghavendra, hematologist/oncologist with Franciscan Health. "We have been successful, but we know we have much more to contribute to this field. I'm so proud of the creativity, ingenuity and dedication Franciscan has made in advancing the care of our patients." •
Keadle is DOE-Anderson SVP Director of Public Relations for Franciscan Health. For more information about cardio-oncology at Franciscan Health, visit franciscanhealth.org.
More people with breast cancer are going from 'newly diagnosed' to 'survivor'
October is Breast Cancer Awareness Month, and while death rates have gone down dramatically in recent years, the American Cancer Society says how you move through survivorship is key.
Content provided by American Cancer Society
Although female breast cancer has become the most diagnosed cancer worldwide, the number of women dying from breast cancer declined by 42% from 1989 to 2019, mainly because of earlier detection and improved treatment. According to the American Cancer Society, the chance of survival improves when people living with breast cancer receive equitable screening and treatment, emotional support and connection, and access to cost-reducing programs.
"Thanks to research and the American Cancer Society's advocacy work, there are effective screenings and treatments for many types of breast cancer," said Susan Brock Williams, an American Cancer Society board member in Indianapolis, who in November will become a six-year survivor. "But, ensuring everyone has equitable access to those screenings and treatments still matters, and finding emotional support from a community of survivors can make the journey of survivorship much easier."
The American Cancer Society recommends breast cancer screening beginning at age 45 with the option to begin at age 40. If breast cancer is found during a screening, the person diagnosed will develop a treatment plan with their health care team.
"It's important to know that you're not alone as you make choices about treating your breast cancer," Williams said. "Your health care team and a great Indianapolis-based community of survivors and volunteers are committed to helping you through this."
There are more than 3.8 million breast cancer survivors in the US today. This includes those who completed treatment and those still undergoing treatment.
The American Cancer Society offers survivors support in the following areas:
Community Connection. The American Cancer Society's Reach to Recovery program provides a network of people who understand the emotional toll of a breast cancer diagnosis. The program matches people diagnosed with breast cancer to trained volunteers who are also survivors. This virtual connection provides support and a listening ear from someone who has walked the same path.
Access to Treatment. Maintaining a consistent treatment schedule is important in effectively managing breast cancer, but it is not easy for everyone to get to treatment appointments due to cost, distance or ability. This can cause missed appointments and a lessened adherence to the treatment plan, harming the health of the person diagnosed. Having a reliable ride to appointments and a place to stay if travel is required ensures more people receive the vital treatment they need. Through transportation and lodging grants and its Road to Recovery and Hope Lodge programs, the American Cancer Society ensures anyone who needs a ride or a place to stay during treatment has one free of charge.
Appearance Resources. Sometimes cancer treatment changes the body a survivor has always known. The American Cancer Society's tlc (Tender, Loving Care) program offers wigs, hats and scarves, or undergarments made especially for those who have had mastectomies or other breast surgeries.
A recent study by the American Cancer Society showed a 6% drop in the number of women who have had recent (within the past year) breast cancer screening, due to the pandemic. This amounts to more than 2 million women across the U.S. who are not up to date on their breast health. Experts say the time is right to catch up on a screening you may have missed.
"Our simple message is this—breast cancer screening saves lives," said Rachelle Anthony, Senior Manager of Cancer Support Strategic Partnerships at the American Cancer Society. "Cancer screening is safe and effective and should be a regular part of your life. If a test ends with a breast cancer diagnosis, the American Cancer Society is here for you. We've been here for you, advocating for enhanced access to screening and more cancer research and we'll be here for you as you move through your cancer treatment." •
Visit cancer.org/get-screened to get more information and talk to a doctor about what screening is right for you.
Breast cancer screening protocols can't rely on the averages
Awareness of personal risk factors is an important tool in detection
By Dr. Tarah Ballinger
One in eight women, or 12%, will develop breast cancer at some point in their lifetime. But this number is only an average—making it almost meaningless to an individual who may have a much lower or much higher risk. Several factors contribute to the risk of developing breast cancer, many of which are things that can be changed, such as body fat, level of physical activity, and alcohol intake. Others are strong risk factors that cannot be modified, including family history, genetics, and breast density. But it is still possible to take some control over these non-modifiable factors through knowledge and action.
Women can be empowered by understanding their personal risk factors—such as breast density and family history—and asking how this might change their breast cancer screening. Indiana law requires that higher breast density be communicated to women on mammogram reports. Higher breast density is primarily genetic and refers to more gland cells in the breast, thus there is more of a chance to develop cancer. Additionally, this tissue makes it harder to detect early abnormalities on a mammogram.
Family cancer history can sometimes be difficult to obtain. It is important to empower women to have intentional conversations with family and to discuss with a health care provider whether individual family history raises red flags. Most women who harbor genetic mutations, such as BRCA1/2, that confer a lifetime risk of breast cancer of up to 70%, are unaware. In addition, even without the presence of a genetic mutation, women with family history of breast cancer in women or men in the family are at increased risk for the disease.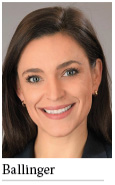 These factors, and others, differ between individuals and therefore so does risk. Given that risk for breast cancer is not uniform, screening and prevention efforts should also not be uniform. While an annual mammogram may be appropriate for many women, women at higher risk benefit from other approaches, including breast MRIs. A breast MRI is superior at detecting breast cancer and is not impacted by higher breast density. However, lack of community awareness, physician education, universal insurance coverage, and resources limit access to breast MRI for high-risk women.
While more intensive screening can detect breast cancer earlier when it is easier to treat, this still does not lower the overall risk of the disease. Risk reduction strategies include lifestyle interventions, such as exercise and weight loss, and extend to medications that substantially reduce risk. Medications such as tamoxifen block breast cells from using estrogen to signal them to divide and invade—a process that causes the majority of breast cancers. Taking this medication for just a few years, even at a low dose, can reduce risk of breast cancer by at least 50%. This is very similar to taking a baby aspirin to reduce the risk of a heart attack, but very few at-risk women are given the opportunity to consider taking medications to reduce risk of breast cancer. While dedicated clinics exist to perform breast cancer risk assessments and develop personalized screening and prevention plans, including at the IU Simon Comprehensive Cancer Center, few patients access these opportunities.
For many patients, pink ribbons and awareness will not be enough. Awareness of personal risk can optimize screening and risk reduction efforts, but ultimately most breast cancers happen sporadically and are the result of genomic abnormalities that aren't known. The breast cancer research community is working to determine other markers of risk that can be intervened upon, particularly in younger or Black patients who present with more aggressive disease. Current work is determining if there are markers in a patient's genetics or bloodstream, called circulating tumor cells, that may be early signs of cancer development, prior to anything that can be seen on a mammogram. While this may be technically possible, it is currently unknown how to intervene in these early signs of cancer and how they will impact patients psychologically. These tests are far from being ready for regular clinical use.
Furthermore, while awareness and personal risk knowledge are impactful, often these efforts miss a large portion of our community. Technological advances in imaging and blood test personalization are poised to further worsen disparities in cancer care between races and socioeconomic statuses if we are not intentional about their use. Individuals who are Black, Hispanic, underinsured, living in low resourced or rural areas, or are transgendered are significantly less likely to receive personalized cancer prevention services due to barriers such as access to resources or miscommunication between providers and patients. For example, Black women are more likely to develop aggressive breast cancers at a younger age and are 30% more likely to have extremely dense breast tissue. Therefore, researchers advocate that screening age and imaging modality be race-specific. Despite this, Black women are substantially less likely to receive supplemental breast cancer screening. In addition, biology of breast cancer development is genetically distinct in Black versus White patients. Thus, if databases and clinical trials primarily made up of White women are used to develop early detection tools or genetic testing, disparities will continue to widen.
These things can be changed. Current efforts include working to personalize cancer screening and risk reduction in ways that do not exacerbate existing disparities. In addition, researchers are studying how to best communicate personalized risk assessments at the community level. Public health campaigns, improving workforce diversity, increasing access to basic health insurance, community engagement, culturally tailored materials, reduced structural barriers such as location and modes of communication, and improving physician education are all strategies to make breast cancer screening and risk reduction personal for everyone. •
Ballinger is a breast oncologist at IU Health
Cancer Action Network widens access to care
Content provided by American Cancer Society
This month is Breast Cancer Awareness Month. And while female breast cancer has become the most commonly diagnosed cancer worldwide, the number of women dying from breast cancer declined by 42% from 1989 to 2019, thanks to earlier detection and improved treatment. But the decline isn't consistent for everyone.
In Indiana and across the U.S., health inequalities like income, access to care and lack of insurance remain prevalent and directly impact diagnosis and treatment. This is illustrated by higher mortality rates in certain populations. Cancer mortality rates are higher in rural vs. urban areas, especially for cancers with effective interventions for prevention, early detection, and treatment, like breast cancer.
One reason for the wide disparity in breast cancer death rates between rural and urban communities is that with reduced access to screening, fewer cancers are being diagnosed at early stages, which may reduce treatment options.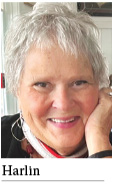 Beth Harlin, a breast cancer survivor from Indiana, noticed something amiss in the mirror while putting on her makeup one morning in June 2008. She knew to call her doctor immediately because her mother had breast cancer. Living near Indianapolis, she had ready access to doctors and medical facilities, and she had employer provided health insurance. Within days Harlin was diagnosed with invasive ductal carcinoma, stage III. She was provided the standard of care: aggressive chemotherapy, surgery, radiation, and follow-on adjunctive therapy. Today, she is a 14-year breast cancer survivor.
"I advocate for those who have no one to call when they look in the mirror—the uninsured, underinsured, low income and geographically isolated," said Harlin. "For this reason, I recently went to Washington, DC, with more than 500 American Cancer Society Cancer Action Network volunteers from across the country to let our legislators know that it is absolutely necessary to increase cancer prevention funding for the Breast and Cervical Cancer Early Detection Program. This program partners with states to provide low or no-cost breast and cervical cancer screenings and treatment, if needed, to uninsured and underinsured individuals. Early detection is key to extending lives and providing more equitable health-care outcomes."
The American Cancer Society leads community-based volunteer programs designed to narrow the gap when it comes to community support and access to treatment. Its advocacy affiliate, the American Cancer Society Cancer Action Network (ACS CAN), advocates for policies at all levels of government that help increase access to screening and treatment. At the same time, volunteers with the American Cancer Society are available to drive people with cancer to treatment appointments or provide support via video or phone calls.
"Indiana's cancer incidence and mortality rates are higher than the national average, so it is important that our policymakers increase funding for public health programs that reach underserved Hoosiers," said Bryan Hannon, government relations director at ACS CAN in Indiana. "Our community can work together to reduce deaths from breast cancer, and we need our policymakers to join us in the fight." •
Find out more at fightcancer.org.
Breast-cancer care makes big strides
By Dr. Erica M. Giblin
Breast cancer care has dramatically changed over the last decade. Ten years ago some hospitals were still doing mammograms on X-ray film. Not anymore. Nowadays, a mammogram incorporates 3-D images of the breast and is able to detect more breast cancers.
Surgery for breast cancer has also changed. Gone are the days when a long wire would be placed into the breast by the radiologist to target the site of the breast cancer. The surgeon would take out the wire at the time of removing the cancer in the operating room. Today, the wires are going away and things are getting more high-tech. Rather than a long wire hanging out of the breast, small devices the size of a seed are now placed into the tumor. The "seed" emits a signal in the operating room that allows the surgeon to localize the site of the cancer and remove it.
These little localization devices continue to get better and better. A brand new localization device, called Sirius Pintuition, is the latest and greatest. It's a small magnetic seed that is placed into the cancer. The magnetic seed emits a "bulls-eye" target that makes it easier for the surgeon to find the cancer and remove it. The seed uses GPS-directional navigation software to accurately mark the tumor and helps with surgical removal from any direction. This is the only localization seed on the market with this GPS capability.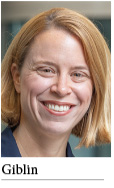 Precision medicine, the personalized testing of each person's breast cancer to determine how best to manage it—is another relatively new approach. Each patient's breast cancer is a little different from the next patient's breast cancer because of differences in DNA. So the ultimate goal is to personalize treatment instead of just "throwing everything" at the cancer. There are now tests that can help determine what treatments are most effective for each patient's particular cancer.
For example, DCISionRT is a test used for very early breast cancer (which is called stage 0 or DCIS). This test calculates a personalized recurrence score to see if there is a low or high risk of that patient's stage 0 breast cancer coming back. If the risk is high, radiation therapy will be done to help decrease the risk of the cancer coming back. If it is low, the patient may not need to have radiation. Tests like these help fine-tune a patient's breast cancer treatment so that it is more precise. That way, both the patient and the doctor have maximal confidence in the specific treatments that are being recommended.
Finally, testing in survivorship (patients who have already been treated for their breast cancer) to detect early recurrence of disease is also becoming more precise. Signatera is a personalized blood test that detects recurrence of a patient's breast cancer, sometimes even before the mammogram can see the recurrence. Such tests in breast cancer survivors can help monitor and catch recurrent disease earlier.
The technology for breast cancer care continues to evolve at a rapid pace. It is very exciting to imagine how things will continue to further evolve over the next decade. We have come a long way in breast cancer care in just the last 10 years. The next decade will undoubtedly be just as exciting with even more advancements and breakthroughs in personalized breast cancer treatment. •
Giblin is a breast oncologist at Ascension Medical Group. To schedule a screening mammogram at Ascension St Vincent call 317-338-2273 or visit https://healthcare.ascension.org/specialty-care/cancer/breast-cancer/why-ascension/inasc-in-breast-cancer-care.
Your support is more critical than ever
Content provided by Susan G. Komen
People need your help today. It is more critical than ever to provide support for those facing breast cancer because breast cancer patients are facing more burdens and barriers in the aftermath of the pandemic and because of the economic slow-down, which is adding personal financial stress.
At Komen, we have seen a tremendous increase in demand for our services because of the additional financial barriers caused by the economic slowdown. Over 60% of the people reaching out to the Komen Patient Care Center are seeking financial support for breast cancer screening and care.
Our Financial Assistance Program is experiencing a record number of requests from income-eligible patients seeking financial assistance. At the current rate, the demand for financial assistance will increase by 81% this year compared to last year. Therefore, we estimate needing another $2.6 million to help keep people in treatment.
Why is patient support urgently needed? Breast cancer screening and treatment were significantly disrupted by the pandemic, creating additional challenges and barriers to much-needed breast cancer care. Screening delays and cancellations during the pandemic raised concerns about associated increases in late-stage cancer diagnoses and mortality. Although we don't know the full impact of the pandemic, emerging data two years since the pandemic is reinforcing those concerns.
One in 8 women in the U.S. will be diagnosed with breast cancer in their lifetime. Now is the time for us to invest in providing women the care they deserve and in the hard work taking place as researchers continue to search for advancements in treatment.
For 40 years, Susan G. Komen has been at the forefront in the fight against breast cancer, leading research, public policy initiatives, global education and outreach and providing direct patient care services to make the biggest impact against the disease.
We can help reduce breast cancer deaths by 30% today by giving people access to the care and support they need right now. That's the mission of the Komen Patient Care Center, which offers direct support services and guidance needed at every step of a woman's breast cancer journey.
Your support—whether it is through donating, fundraising, or volunteering—will help drive our mission to end breast cancer. Your commitment will help Susan G. Komen invest in new research, provide critically needed patient care services, push for lasting policy changes to expand access to care and support the breast cancer community. Learn how you can make an impact at Komen.org. •
7 things to know about getting a mammogram
Mammograms (breast x-rays) are the best screening tool we have to find breast cancer early, when it may be easier to treat. After you and your health care professional establish a screening schedule, it'll help to know what to expect so it can go as smoothly as possible. Here's what you need to know.
What is a mammogram?
A mammogram is an x-ray of the breast that's used to find breast changes. X-rays were first used to examine breast tissue nearly a century ago. Today, the x-ray machines used for mammograms produce lower energy x-rays and expose the breast to much less radiation compared with those in the past.
Where do you get it?
Find a center that specializes in mammograms. The US Food and Drug Administration (FDA) certifies mammogram facilities that meet high professional standards of quality and safety. Ask to see the FDA certificate if one isn't posted near the receptionist's desk. And when you find a facility you like, stick with it. Having all your mammograms at the same facility will make it easier for doctors to compare images from one year to the next. If you've had mammograms done at other facilities, have those images sent to your new facility.
When do you schedule it?
It's best to schedule your mammogram about a week after your menstrual period. Your breasts won't be as tender or swollen, which means less discomfort during the x-ray.
What should you wear?
Wear a 2-piece outfit because you will need to remove your top and bra. Do not apply deodorant, antiperspirant, powder, lotion, or ointment on or around your chest on the day of your mammogram. These products can appear as white spots on the x-ray.
What should you expect?
The entire procedure takes about 20 minutes. The breast is compressed between two plastic plates for a few seconds while an x-ray is taken. It's repositioned (and compressed again) to take another view. This is then done on the other breast. Flattening the breast can be uncomfortable, but is needed to provide a clearer view.
When do you get the results?
You should get your results within 10 days. If you don't, you should call to ask about them. If doctors find something suspicious, you'll likely be contacted within a week to take new pictures or get other tests. But that doesn't mean you have cancer. A suspicious finding may be just dense breast tissue or a cyst. Other times, the image just isn't clear and needs to be retaken. If this is your first mammogram, your doctor may want to look at an area more closely simply because there is no previous mammogram for comparison.
What do you pay?
For uninsured or low-income women, free or low-cost mammogram services are available. Some of these programs are held during National Breast Cancer Month in October, while others are offered year round. Call the American Cancer Society at 1-800-227-2345 to find a program near you.