The University of Indianapolis plans to break ground later this month on a $25 million, four-story apartment building that will create a new housing option for up to 480 students, the university announced Monday morning.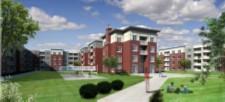 The joint venture between UIndy and longtime local developer Gene Zink will feature 196 furnished units ranging from one to four bedrooms with kitchens, living areas and washers and dryers.
The new structure will be located on the southeast corner of Shelby Street and National Avenue, replacing a 60-unit campus apartment complex and an adjacent row of aging duplexes, which together house a total of 175 students.
Construction should be finished by July 2016, in time for the start of the fall semester.
The E-shaped brick structure will have three wings pointing east into campus, creating a courtyard and recreation area for residents, the university said. Some units will have balconies, and the building's common areas will include an outdoor observation deck overlooking a pond.
The project is significant for the university because of its location on Shelby Street, which connects the campus to the nearby Garfield Park and Fountain Square neighborhoods. It's also the preferred route for a proposed rapid transit line through Marion County.
 
"This is a beautiful building that not only will enhance the neighborhood's visual appeal, but also will help build residential density and attract new commercial development to serve the UIndy community as well as our neighbors and commuters," UIndy President Robert Manuel said in prepared remarks.
Schmidt Associates is the architect for the project.
A ceremonial groundbreaking is set for May 28.
 
Please enable JavaScript to view this content.