A local developer is embarking on the $4 million second phase of a project that it started two years ago in the Cottage Home neighborhood bounding East 10th Street.
Stenz Corp. in 2014 began selling 16 residential lots as part of a development called Dorman Sq. on Dorman and Stillwell streets south of East 10th Street. Of the 16 lots, 15 are sold and all but three are built upon with homes priced in the $450,000 range.
"The demand has exceeded our expectations going in," said Beau Ansty, a Stenz vice president. "There's a lack of quality inventory of for-sale housing downtown."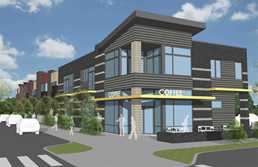 Stenz now plans to shift gears and construct seven townhomes fronting East 10th Street on the same block and priced about the same as the residences, in addition to a 6,000-square-foot retail and office building at the corner of 10th and Dorman. (See image at right; click for larger view.)
The success of the first phase and the increasing activity across the street at the Circle City Industrial Complex, including the forthcoming opening of Centerpoint Brewing, convinced Stenz to start the next phase, Ansty said. The project is also a stone's throw to the east of the $260 million Coke plant redevelopment project planned at the north end of Mass Ave.
Stenz expects to break ground this fall with the first units becoming available late next spring.
"The fact that the brewery is opening, things are really starting to happen there," Ansty said. "And with things happening at the Coke plant, we thought the timing was right on our project as well."
The seven two-story townhomes will be constructed in two buildings—three units in one and four units in the other—with the commercial building anchoring the project. A retail tenant is expected to occupy the ground level with an office user above.
Locally based Demerly Architects is the architect on the project.
Please enable JavaScript to view this content.