The Indiana Pacers have signed a deal with Indiana Members Credit Union, making the Indianapolis-based financial institution
an official sponsor of the team for the 2009-2010 season.
The agreement includes player appearances, a Pacers
debit card, courtside signage, radio spots, hospitality and use of the Conseco Fieldhouse practice court for community
relations initiatives.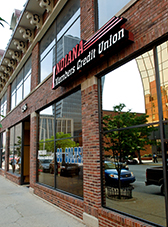 Indiana Members Credit Union, founded in 1956, has 25 central Indiana branches. (IBJ file photo)
The Pacers—like
many professional sports teams—have been hurt by the swooning economy. Several sponsors have left the team, but the
Pacers have added new sponsors in recent weeks, including Cincinnati-based Kroger, which replaced locally based Marsh as the
team's official grocery store.
While Pacers officials acknowledged the team has lost money nine of 10 years
at Conseco Fieldhouse, they said they expect the number of team sponsors to remain at about 200, and team President Jim Morris
said there's a chance sponsorship revenue will increase this year over last.
Please enable JavaScript to view this content.