Haunted house owners toil year-round gathering ideas, buying supplies, designing scenes and choreographing scares. They take in conventions with names like Transworld, Hauntcon and Midwest Haunters.

All in preparation for about 20 days in October.

The successful owners have been running haunted attractions for years, long enough to know you're only as good as your last scare. The audience is fickle, and with just a few weeks in business every year, there's not much margin for terror.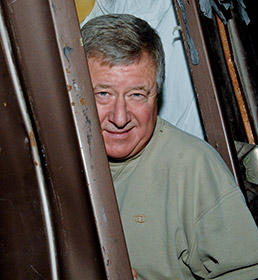 Tom Angrick wants a permanent home for his Fright Manor. (IBJ Photo/Karly Tearney)
Haunted house owners surveyed by IBJ declined to share revenue figures, but they say business is steady or up this year and traditionally has been recession-resistant. The owners of two of the most popular local houses, Fright Manor and Necropolis, are even in the market to buy their own buildings instead of continuing to pay rent.

"We're obviously discretionary income here," said Steve Walls, who owns Necropolis City of Darkness on Shadeland Avenue. "But even in bad times people want to be entertained."

Nationwide, roughly 2,000 haunted houses, hayrides and other attractions rake in $1 billion annually of the $7 billion consumers spend on Halloween, according to St. Louis-based trade group Hauntworld Inc., which publishes Hauntworld Magazine.

A big chunk of the spending is controlled by the target demographic for haunted attractions: teens and young adults ages 18 to 34.

Most operators now feature multiple haunted attractions to appeal to a wider audience and stretch marketing dollars, which are spent mostly on radio spots.

Hanna Haunted Acres started in 1992 with a simple spooky hayride on the Waterman family farm at 7323 E. Hanna Ave. but now also offers a cornfield maze called Entanglement and four separate haunted houses dubbed Phantazmagoria, Hell's ½ Acre, Blackout and Carnevil.

Fright Manor at 2909 S. Meridian St. includes Southside Sanitarium and Psychomanthium, where they "conjure up the dead and use them as minions." The Necropolis City of Perpetual Darkness at 2525 N. Shadeland Ave. has Zombie Inn and Dark Terrors, where guests are given flashlights controlled by haunted house employees.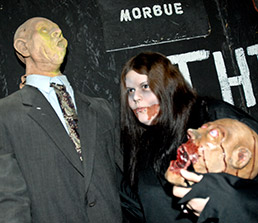 Kerri Williams, 17, gets ready for her haunting shift at Fright Manor. (IBJ Photo/Karly Tearney)
Technology has broadened the options for haunted house operators. The ever-improving animatronics that use small movements to make monsters lifelike, and therefore scarier, are especially popular. More than 30 vendors specialize in supplies for haunted houses, and they sell $50 million of the spooky stuff every year.

Still, there's plenty of demand for haunters who possess real flesh and blood.

"No matter what you do, you can't replace the human timing and interaction," said Scott Waterman, who owns Hanna Haunted Acres with his wife, Amy. They also own Indy Acres Paintball and their family owns Waterman's Farm Market.

On its busiest nights, Hanna hires more than 100 people to help with the scaring. Necropolis employs up to 300 people to scare guests along a 45-minute journey through a dark basement in the former Western Electric plant campus.

Lease or buy?

Necropolis, which opened in 1991, doesn't operate year-round, but it doesn't have to be dismantled, which gives it an advantage over competitors who have to tear down and rebuild every year. The neighboring Dark Armies paintball facility, which came first, helps pay the rent during the off-season. Together, they occupy 80,000 square feet.

"The marriage of paintball and haunted house works perfectly," said Walls, a former advertising executive for General Cinema Co.

Walls opened the paintball center in 1990, and several customers told him it looked like a haunted house. So he converted about half his space into one. Now, Necropolis has a reputation for being almost too scary—enough so that some potential customers stay away.

"We're not gory, and we're not going to touch you, but it is frightening," Walls said. "We try to discourage bringing in little kids. We tell those that do come in to hold their fingers in a cross if they want the scarers to leave them alone."

The space is perfect for haunting, but it does have drawbacks. For one, there's no street frontage so Walls doesn't get many impulse visitors. His lease is up this year, and he's been looking at buildings to buy.

Necropolis attracts 20,000 people, paying $26 each for a combo pass. Hanna Haunted Acres draws 40,000 people with haunts that cost $13 apiece or $27 for all six.

Fright Manor owner Tom Angrick hopes 10,000 people at $18 apiece find his new location in the 15,600-square-foot former home of Markey's Rental & Staging at 2909 S. Meridian St.

Angrick is renting the space this year, for a three-month term, but hopes to buy a building in time for next October. That would mean no more storing the materials in truck trailers in the off-season.

South-side shakeup


He's trying to get the word out about the new location after setting up Fright Manor at Southport Little League last year and a few years earlier at Southport Park, where it attracted about 15,000 customers a year for 20 years (and also generated $300,000 for the town's playground fund). One strategy: Celebrity guest appearances including one by the actor who played Jason in "Friday the 13th".

Angrick hopes to emerge from a shakeout of sorts in the south-side haunting market. Former staples Scream at South Hollow and Nightmare on Edgewood, held for years at the Southport and Edgewood little leagues, have closed.

The remaining competitors have set up a haunted alley along Meridian Street. The Nightmare folks have opened an attraction called Southside Massacre at 5545 S. Meridian St. And farther south, at 8604 S. Meridian St., the Asylum House—which also features Nightmares in 3D, Dark Oaks, The Crypt of Elysium and Monster Mayhem—is celebrating its 13th year at German Park.

Fright Manor has five people on its board, all of them with full-time jobs that don't involve chain saws or corpses. Angrick works at Farm Bureau Insurance and his wife, Cindy, is a surgical nurse. For the Angricks and other haunted house owners, their Halloween-season income is purely supplemental.

Though most of them have other jobs, the haunted house owners spend hours during the off-season and even parts of October attending trade shows and scoping out other haunted houses. One of the conventions, Hauntcon, is talking about Indianapolis as a potential host for its 2011 event.

This year, Waterman made it to the legendary Bates Motel and Haunted Hayride in Pennsylvania and Niles Haunted House Scream Park in Michigan.

But what really keeps him going is working with his hands each year, learning new skills like how to weld, work with latex and wire electronics. He said it beats his old job as a real estate appraiser.•