The Robert D. Orr Indiana Entrepreneurial Fellowship is expanding.

Founded in 2001 in honor of the late Indiana governor, a Republican who served from 1981 to 1989, the two-year fellowship matches top Hoosier college graduates with fast-growing local businesses. Its goal is to establish connections that will encourage Indiana's best and brightest to build careers here, combating the state's notorious brain drain.

In each of the last eight years, the Orr program placed 10 fellows with entrepreneurial companies. Due to high demand, the Orr fellowship will place 20 starting with its 2010 class. It anticipates placing 40 fellows in 2011 and 80 in 2012.

"Some of our past fellows have gone on to found their own businesses, while others have high-ranking jobs right here in Indiana," said Angie's List Chief Operating Officer Scott Brenton, co-founder of the fellowship. "Some are off at graduate school at some of the nation's finest universities, and we're actively working to recruit them, with their enhanced skills, back home again to Indiana."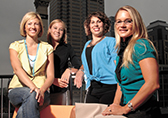 Since 2001, fast-growing local companies have hired top Hoosier college graduates through the Orr Fellowship. (IBJ File Photo)
"This isn't your typical fresh-out-of-college first job," said Alison Sales Roach, president of locally based Compendium Blogware and a former Orr fellow. "The fellowship really delivers on its promise to expose fellows to what it's like to run an up-and-coming business."

Local companies offering Orr fellowships include Angie's List, Compendium Blogware, Angel Learning, Ascendium, AuthorSolutions, ChaCha, ExactTarget, RICS Software, Sigma Micro and WebLink International.

To learn more about the program or how your company can host a fellow, or to apply, visit www.orrfellowship.org. Applicants must be undergraduate seniors scheduled to graduate next month or in May 2010, and must either attend Indiana colleges or universities, or be Hoosier natives attending out-of-state schools.