As a rule, I avoid using exclamation points in my writing. I figure if the sentence is dramatic enough, the exclamation point isn't necessary.

To see if that theory applies to restaurants, we're going to spend the month visiting restaurants that include exclamation points in their names. First stop: Oobatz! (1576 W. Oak St., Zionsville, 733-1234)

With October weather still behaving, we lucked onto one of the patio's fire-topped tables and quickly surrounded the flames with oversized offerings. Oobatz Crazy Dip ($9.29) featured crab, shrimp, spinach and artichoke served in the crock it was cooked in. Flatbread pizza chips gave sturdy support to the delicious combination that didn't taste as busy as it sounds on the menu. We took equal pleasure in the Oobatz Signature Salad ($5.29 small/$8.79 large), a mix of romaine lettuce, cranberries, sunflower seeds, almonds and gorgonzola crumbles.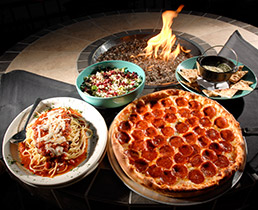 Flames are the centerpiece at some outdoor tables at the new Zionsville eatery Oobatz! (IBJ Photo/Robin Jerstad)
All well and good (actually, very good), but the true test would come with the pizza. The NYC Cheese ($7.59 for a 10-inch, $9.59 for a 12-inch, and $12.99 for a 14-inch) was thicker than the traditional New York style. And, conversely, the Chicago Deep Dish ($10.99 for a 10-inch, $14.99 for a 14-inch) wasn't as thick as one expects from a Windy City pie, but both are terrific additions to the local pizza scene, fairly priced, and well worth returning for.

Does this handsome, comfortable place do anything wrong? Perhaps, but we found nothing but pleasure deeper in the menu with a mozzarella-cheese-bathed Meatball Parmesan Sandwich ($8.49) and a capable-of-feeding-a-small-family Chicken Parmesan entrée pasta ($11.79). The former was served on a hoagie roll toasted just right—and brought to our table hot, even in the midst of a complicated order. The latter featured chicken breast thick enough to feel substantial while maintaining the necessary balance with its breading, cheese and sauce. It arrived on what seemed like a pound of perfectly cooked spaghetti. More than half found its way into the next-day's lunch.

No room for dessert, but offerings included a Bucket of Italian Zeppellies ($5.89), Tiramisu ($4.79) and various Sorbet served in hollowed-out frozen fruit ($5.25). Gelato, too ($2.89).

If the rest of the month is anything like this, the exclamation point on my keyboard could be getting a workout. I mean, a workout!•

–Lou Harry