Chase Bank over the past year had a golden opportunity to expand its dominance in Indianapolis. The bank, part of New York-based
JP Morgan Chase, weathered the financial storm far better than many of its rivals, such as Cleveland-based National City,
which Pittsburgh-based PNC Financial Services bought at the height of the financial crisis.
Even so, Chase couldn't
capitalize. The bank easily retained its No. 1 spot, with $6.95 billion in Indianapolis-area deposits as of June 30. But that's
$352 million less than it boasted here 12 months earlier, according to Federal Deposit Insurance Corp. data.
Overall,
one of the toughest runs for the finance industry since the Great Depression didn't lead to a major shakeup in the city's
banking landscape. Substitute PNC's brand for National City's, and the top eight positions remain unchanged.
Reshuffling occurred further down the list, however, as healthy institutions used acquisitions to bulk up their market
share. Muncie-based First Merchants Bank saw the biggest single jump. It expanded by buying Plainfield-based Lincoln Bank
and its $490 million in local deposits last year. Now it's No. 10, with 1.7-percent market share.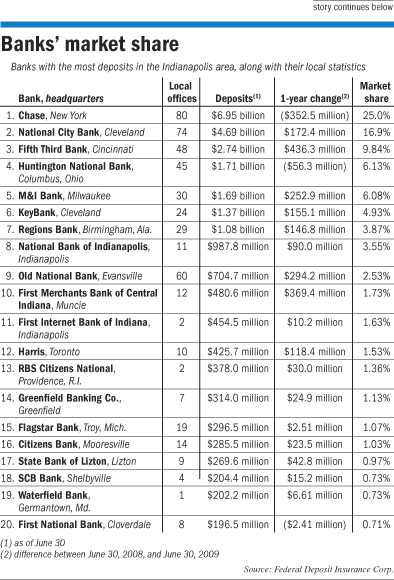 Similarly,
Evansville-based Old National Bank's purchase of Charter One's local branches increased its
Indianapolis deposits by $294 million, vaulting it from No. 11 to No. 9.
All the banks had
to cope with the deep recession and the crash of the real estate market, which combined to sap demand
for new loans, boost defaults on old ones, and slash the market value of property seized as collateral.
But a silver lining was that total bank deposits in the Indianapolis area grew $1.44 billion in
the 12 months ended June 30, according to the FDIC.
Industry experts say the market downturn spooked many investors,
spurring them to move their money into safer but lower-yielding bank deposit instruments, like money market accounts.
Eight of the top 10 substantially grew their Indianapolis deposits, even as Chase lost ground. Many of the institutions
making headway were part of out-of-state regional banks weathering deep loan losses, though their Indianapolis outposts weren't
to blame for those woes. National City teetered, for instance, because of its soured purchase of a California-based originator
of subprime loans.
"For the most part, bankers who operate in our community have long been good bankers who
take measured risks and stick with core fundamentals," said David Amick, executive director of locally based small-business
lender Premier Capital Corp. "They haven't been out there on a limb taking extraordinary risks that have come
back to haunt them."
National tumult
Nationwide turmoil has created both challenges
and opportunities for medium-size banks, said Randy Reichmann, president of Old National's Indianapolis region. It spurred
companies and individuals to shop around. But bankers now have to overcome higher hurdles of skepticism to earn their business.
"I used to laugh when they'd tell lawyer jokes. Now they tell banker jokes, and I don't think those
are nearly as funny," Reichmann said. "Unfortunately, there's not as much trust in the industry right now."
Cincinnati-based Fifth Third enjoyed the largest gain among existing players. Its bankers were able to grow deposits
here $436 million, despite the distraction of speculation last year that the institution would be acquired.
Shares
of parent Fifth Third Bancorp, along with the shares of most other banks here, have surged from lows they hit early this year.
But experts say that doesn't mean the banking market has settled down.
The fruits of some new customer relationships
banks struck during the turmoil might not become evident until loan demand from those clients picks up in a year or two, after
the economy rebounds.
In addition, the lineup of banks with a major Indianapolis presence could see more changes,
as the region's comparatively vibrant economy leads institutions to enter the market or expand their presence through
acquisition, said Steve Beck, a former local bank executive who now is Indiana managing director of the Chicago-based commercial
real estate financing firm Geneva Capital Group.
The deal-making could thin the number of banks competing here.
Indianapolis has 599 bank offices spread among 54 institutions, according to the FDIC. The top 10 banks own 413 of them.
"You drive around Indy and, on so many good corners, there are four bank branches," Beck said. "There
will be some consolidation."
Big bank yields share
Chase has been a strong giant
atop the city's banking scene since 2004, when it bought Chicago's Bank One—formerly the biggest bank in
Indianapolis. And Chase still holds a huge lead on the rest of the pack, with a nearly 25-percent market share.
Spokeswoman
Nancy Norris downplayed Chase's deposit decline. She said Chase's Indianapolis deposits actually increased if
large commercial deposits in the bank's Monument Circle office—which fluctuate widely—are excluded.
Larry O'Connor, a former CEO of Bank One's Indiana operations, pointed out that bankers typically focus
more on profitability measures, such as return on assets, than on grabbing deposits.
Indeed, he noted that many
troubled banks were offering extraordinarily generous rates on CDs at the height of the financial crisis, since they needed
to raise capital quickly. Chase didn't have to hunt unprofitable deposits.
"It was perhaps the most
volatile period the country and the state has experienced in my career," O'Connor said. "And banks were
scrambling for liquidity. Thus the bailout."
Regional banks operating in Indianapolis scooped up funds from
the federal government's Troubled Asset Relief Program, or TARP. In addition, 17 Indiana-based banks accepted money
from the program.
So far, just two Indiana-owned banks have failed, both part of Columbus-based Irwin Financial
Corp. Cincinnati-based First Financial Bancorp purchased the banks' operations in September.
National City's
woes forced it into a government-engineered $5.2 billion sale to PNC. National City gained $172 million in deposits in the
12 months ended June 30, though that belies a longer-term trend. Five years ago, National City was a close runner-up to Chase
in Indianapolis. Today, they're $2.3 billion in deposits apart.
Nancy Huber, Fifth Third's central
Indiana president, said she thinks her bank's local decision-making helped fuel its nearly half-billion-dollar gain
in deposits. She also noted Fifth Third's special focus in the last year on flagging its customers' potential
challenges before they become acute.
The idea is to quickly help troubled clients "unwind, reset and get
ready to go again" if they get behind on credit card payments or home equity loans.
"Everybody loses
when a customer doesn't achieve success," Huber said. "Our mission is to have as many successful customers
as we possibly can."
KeyBank added $151 million in deposits over the past year, boosting its market share
to 4.9 percent. But its executives want a much bigger slice of the pie. The bank, which started the year with 23 local branches,
has debuted four in 2009, and plans seven next year and five in 2011. Each will cost $1 million to $3 million.
"Central
Indiana is still an outstanding market economically, demographically," Hentschel said. "If you look at the growth
that continues to take place in central Indiana, the diversity of the industries we have now—life sciences, logistics,
even technology—we continue to look at central Indiana as a very attractive market."•
Please enable JavaScript to view this content.