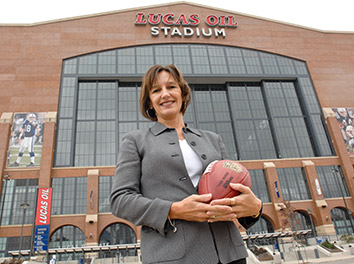 TITLE: CEO, 2012 Indianapolis Super Bowl Host Committee
SPHERE OF INFLUENCE:
Allison Melangton brings more than 25 years of sports and events management experience to her role overseeing plans for the
2012 Super Bowl in Indianapolis. She's betting that her work helping Indianapolis build its sport tourism strategy will
come in handy.
Allison Melangton often thinks of her life in four-year chunks, and she doesn't think any
four-year period will be more intense than 2008-2012. In May 2008, she learned her efforts to help bring the 2012 Super Bowl
to Indianapolis had paid off. Then she flew to Beijing for the summer Olympics. Upon her return, the chairman of the Super
Bowl bid committee offered her the chance to head up the 2012 Indianapolis Super Bowl Host Committee. She's been on
the job a year.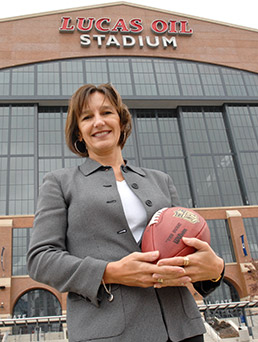 (IBJ Photo/Robin Jerstad)
Fast-forward to the end of this four-year stint, and it'll be 2012. Melangton
will turn 50 right before the Super Bowl in February and finish up her work on the event in May. Shortly thereafter, she'll
watch her son graduate from high school, leave for the London Olympics, return home, "and take a big nap," she
said.
Melangton, 47, is confident she's up to the challenge. She's a lifelong competitor.
"I am a full believer that sports of any kind teach you a lot of things, starting with discipline. The harder
you work, the higher the reward. At an early age, sports trained me to work hard, be confident and persevere with a positive
attitude."
Melangton competed as a gymnast, and her dad was a national elite-level ski jumper. Like many
athletes, she dreamed of the Olympics. In the 1972 games she watched Olga Korbut turn gymnastics into the popular sport it
is today.
In 1983 she was working in Colorado with the U.S. Olympic Committee when she was introduced to Sandy
Knapp, who as head of the Indiana Sports Corp. at the time helped bring major sporting events and groups to Indianapolis.
"I spent five minutes talking to her about the 1982 National Sports Festival that had been in Indy. She told
me her vision for sports in the city. She was one of the only females in sports leadership in the country, so she was a legend.
I was very impressed and liked her very much."
A month later Melangton accepted a job at USA Gymnastics
when the organization moved its headquarters here from Colorado. For 12 years she worked there, directing 100 national and
international events. That's when she became involved with television. She has worked at seven Olympic games as an associate
producer and won four Emmy Awards.
Later she moved to the Indiana Sports Corp. as senior vice president of events.
While there she bid on, planned and directed events including Olympic trials, world championships, Men's and Women's
NCAA Division I Basketball Championships, Big Ten tournaments and administrated Indianapolis Super Bowl bids for 2011 and
2012.
The Indianapolis Super Bowl will be about more than just football. "It's important we accomplish
our goals with the NFL," she said. "But more important is to have a Super Bowl that the community embraces. We
want to involve the community in every way we can and create long-lasting legacy programs."
Indianapolis
is what it is today because of the sports-tourism vision of others 30 years ago, Melangton said. "It's our responsibility
to keep that going."•
Please enable JavaScript to view this content.