So much for the "Nun and Blank" and "Second to Nun" jokes.
When Sisters of St. Francis Health Services Inc. bought Tonn and Blank Construction Co. in 1998, more
than one employee of the Michigan City firm wondered what it would be like to be run by a Roman Catholic
order that not only owned a string of Midwestern hospitals but also traced its spiritual heritage to
a 12th century mystic.
At the time, Tonn and Blank was thought to be
the only construction company owned by a health care system, and the claim to fame
might still be true.
Unique or not, the $200 million
company, which splits its attention between Sisters properties and other projects, believes it has outgrown
its longtime territory of northern Indiana and Illinois and now views Indianapolis
as its next growth market.
The union shop faces an
uphill fight in a market increasingly dominated by entrenched contractors—contractors that, like
Tonn and Blank, also target expensive health care and life sciences projects.
President and CEO Jon Gilmore insists he's undaunted.
"Our potential is biggest in Indianapolis," Gilmore said. "It's huge for us."
Tonn and Blank was a typical industrial contractor until St. Francis brought the company under
roof.
Gilmore, who was with the company at the
time of the acquisition, says Sisters had unpleasant experiences with some other contractors,
though Jane Marie Klein, chairwoman of St. Francis Health Services, recalls Sisters' making the
decision primarily because of the system's seemingly constant construction
and to keep the construction profits in-house.
Half of
Tonn and Blank's work involves building new hospitals and renovating exiting facilities for Sisters.
It sometimes also works for hospitals outside the St. Francis organization. A $350 million
replacement hospital for Trinity Health System in Mishawaka is nearly complete.
After health care, Tonn and Blank's next-largest segments are commercial
and industrial.
The company bills itself as a turnkey operator, handling
construction as well as architecture, engineering, technology and even the furniture.
So when Tonn and Blank executives pitch a bid, they play up their control of the entire
project and the attendant ability to keep a lid on costs and hit quality benchmarks.
They also
pitch "Franciscan values" of high ethical standards.
"They bought us because of our ethics and values. But it's a constant reminder you'd
better keep your nose clean," said Gilmore, who quips that, as a Missouri Synod Lutheran, he's "Catholic
lite." "It gives you a different perspective on your job."
Tonn and Blank may be owned by a not-for-profit organization, but it's operated as a for-profit.
Its earnings, which usually run 3 percent to 4 percent of its billings, go to Sisters, which reinvests
some of the money back in the company.
The balance of the profits
go to Sisters' 13 hospitals, including Indianapolis-area locations in Mooresville, and in Beech
Grove and farther south on Emerson Avenue near Southport, to subsidize care for
people without insurance.
A visitor to Tonn and Blank's
headquarters wouldn't know the company is owned by a religious charity were it not for the St.
Joseph the Worker statue at the front entrance. The 3-foot-tall statue, a reminder
of Catholic teaching that departed saints pray on behalf of people still on Earth, also exists
in miniature in the company's construction trailers to keep workers safe.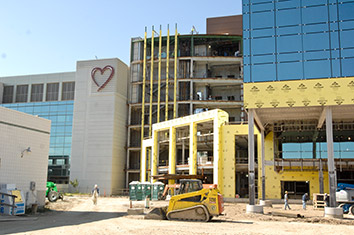 Tonn execs noticed opportunities
while building St. Francis Hospital. (IBJ Photo/Karly Tearney)
Another
tip-off of Sisters' ownership is a picture over the receptionist's desk of Mount Alverno,
the mountain in Italy where Francis of Assisi went about showing compassion.
Four of the seven board members are Catholic, said Klein, the chairwoman.
But religion is rarely discussed in meetings: "It's not like we're a religious company."
Sisters of St. Francis Health Services is owned by Sisters of St. Francis
of Perpetual Adoration. The order was founded in Germany in 1863 before moving several years
later to Lafayette, and eventually to its current headquarters in Mishawaka, the northern Indiana city
where it maintains a convent.
The order has about 125 members whose
median age is in the late 60s, said Angela Mellady, who, as "provincial superior,"
carries responsibilities similar to those of a CEO. Virtually no women joined in the
1980s and '90s, so the 17 who became members in this decade will be called upon at young ages to
assume responsibilities for the system.
If necessary, Sisters will
look to the outside for expertise. Mellady said: "That's all in God's
hands."
Klein said opportunities in Indianapolis became
apparent as Tonn and Blank worked on Sisters hospitals in the area.
Tonn and Blank opened an Indianapolis office in 2003 to begin work in Indianapolis and staffs it with
20 office employees.
Now, as the company looks to replenish
a project pipeline ravaged by the recession, it is encountering players long accustomed to operating
in Indianapolis. Just a few of those firms are Shiel Sexton Co. Inc. and F.A. Wilhelm
Construction Co. Inc., both based in Indianapolis. Chicago-based Pepper Construction
has a large presence, as does Hagerman Group, headquartered in Fort Wayne.
Breaking into the market in a big way will be hard for Tonn and Blank, said Greg Jacoby, executive vice
president of Browning Day Mullins Dierdorf Architects.
"There are a lot of really good contractors in Indianapolis," Jacoby said. "It's
very competitive."
Tonn and Blank can expand in Indianapolis
by building its reputation with quality work and developing relationships, he added.
Indianapolis construction is heavily influenced by relationships even when customers emphasize
the lowest price.
Tonn and Blank's union status won't necessarily
put it at a disadvantage, because most of the biggest projects, such as the new
terminal at Indianapolis International Airport, are done with labor agreements to avoid
pickets and the attendant potential for delays, Jacoby said.
Still,
nonunion Shiel Sexton has snapped up several big projects in recent years, including the expansion
of the Indiana Convention Center.
Gilmore acknowledged the Indianapolis
market is shifting to non-union contractors.
However, he and Sisters
see paradox in the non-union competitors. Hospitals sometimes hire the non-union
firms because they bid a lower price. But then the hospitals are obligated to care for the workers when
they're hurt on the job and have no insurance.
Gilmore said Tonn
and Blank is solid. It has no debt, and it has capacity to bond $300 million—plenty of firepower for
the size of the firm.
That makes him optimistic.
"We're confident," he said.•
Please enable JavaScript to view this content.