Mmm. Cupcakes.
Given that nearly universal sentiment, I suspected that volunteers would come out of the woodwork
when it came time to evaluate the offerings at this week's exclamatory eatery: Holy Cow, Cupcakes! (545 S. Rangeline
Road, 571-1500). I was not disappointed.
Located adjacent to a Crystal Flash gas station just south of Carmel's
Art & Design District, the bakery—or is it cupcakery?—doesn't put on airs. There's a simple display
case, a cash register capable of processing credit cards, and a kitchen that probably saw its fair share of burrito warm-ups
in a previous life.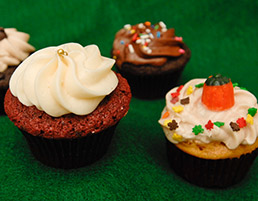 Daily special variations at Holy Cow, Cupcakes! include such oddities as pumpkin and mocha. (IBJ Photo/Karly Tearney)
Even
the menu is understated. Holy Cow features five "everyday" flavors, the stuff you might find in an indulgent parent's
kitchen on any given afternoon: chocolate cupcakes with chocolate frosting, chocolate/vanilla, vanilla/chocolate, vanilla/vanilla
and red velvet. Owner Karen von Kamecke Sutton also offers up two specialty flavors each day.
Although tempted
by Friday's Oreo and margarita and Saturday's maple bacon and chocolate chip cookie dough, we picked a Wednesday:
pumpkin and mocha. Our first surprise was the size. Holy Cow's cupcakes ($2.50 each, $12 for six and $24 for 12) aren't
those supersized, feed-a-village concoctions that should come with a health warning. These are traditional, feed-the-need-for-sweet
goodies you can indulge in with minimal guilt. And you know what? Most of us were fine with that.
Which brings
us to the other revelation—at least to me. People can be pretty darn picky about their cupcakes. My half-dozen helpers
provided a range of reactions, both critical and complimentary. Our consensus opinion (if you can call it that): The star
of Holy Cow's show is its frosting.
Oh, that frosting … (pause for drool cleanup). Chocolate, vanilla,
cream cheese—the details didn't make a difference in this case. The frosting was fabulous. It was sweet without
being cloying, fluffy but still substantial. Creamy. Flavorful.
Cupcake-wise, the pumpkin was the most popular
among our taste-testers, who praised the mild spice and moist texture that made it stand out. The mocha and red velvet cupcakes
also won kudos for moisture, though our panelists complained that most of the mocha flavor came from the icing, not the cake
itself.
As for the chocolate and vanilla cupcakes, they were OK, but nothing much different than we could whip
up at home. Now if they'd had a bit more frosting, that might be another matter.•
—Andrea
Muirragui Davis
__________
Second in our month-long series of reviews of eateries with
exclamation points in their names.

Please enable JavaScript to view this content.