With "Mysterioso" (Oct 30-Nov. 1) Principal Pops Conductor Jack Everly and the Indianapolis Symphony Orchestra attempted to combine magic and music into an evening of entertainment that enhanced both the tricks and the tunes.

Part of the Symphonic Pops Consortium, created by Everly, which produces original shows and makes them available to its five member orchestras, "Mysterioso" was a crowd-pleaser—but there was a strong sense throughout that the elements could have combined differently to greater impact. Just as a pair of onstage magicians at one point tore apart sheet music and then miraculously put it back together, I think strong consideration should be given to taking apart this show's elements and reconstituting them before it heads to its next stage.

That's not to say that there weren't thrills throughout. Anyone who has seen the sports arena half-time antics of quick-change artists David & Dania can vouch for their odd but compelling talents. At one point, a costume change was accomplished with nothing blocking the view but a cascade of glittering confetti. Remarkable—but I couldn't tell you what music was playing while they were doing it.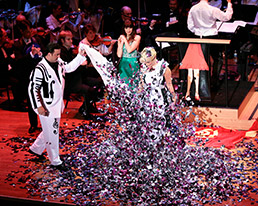 David & Dania brought their quick-change act to the Hilbert Circle Theatre as part of "Mysterioso." (Photo/Thomas J. Russo)
The very-Vegas Joseph Gabriel (looking like a Michael Feinstein clone), pulled off some impressive dove diversions while world-weary Les Arnold and his goofball assistant Dazzle (really his daughter) left jaws agape with a trick involving a live duck appearing in a basket held by an audience member. I'm still trying to figure that one out, even after having watched too many episodes of "Magic's Biggest Secrets Revealed." Here, too, though, the symphony seemed to disappear.

The ISO took the lead in an opening medley, hitting its stride with a zesty "I Dream of Jeannie" theme. Later in the act, for its presentation of music from the Hitchcock film "Spellbound," the ISO was upstaged by a theremin. That's a science-fictiony instrument, played with obvious skill by Charles Richard Lester, that got annoying well before its concerto was complete.

The first act also introduced Christina Bianco—as a hypnotized audience member led by Gabriel to channel the likes of various female vocalists. Once the audience caught on to the fact that she was a ringer, it was difficult to warm up to the bit, despite strong impressions of Barbra Streisand and a remarkably well-received Bernadette Peters. (Her takes on Celine Dion and Judy Garland were less effective.)

She and the ISO fared much better in Act II, where they combined beautifully on an uncluttered, lovely "It's Magic"/"Bewitched Bothered and Bewildered" pairing and an equally strong, if more Broadway dramatic "Neverland"/"Defying Gravity." I was glad to see restraint exercised: Bianco's feet remained on the floor, with nary a flight harness in sight.

The talented, accessible singer—with an eclectic resume ranging from the lead in "Dora the Explorer Live" to "Forbidden Broadway"—could be the key to a coherent reboot of "Mysterioso." Her numbers, in which the ISO proved an equal partner rather than a backup band, could be the key to a thrilling, classy framework within which to insert the vaudeville and Vegas magic.

Upcoming pops concerts include a Nov. 20-22 visit by Florence Henderson and, of course, Yuletide Celebration, this year headlined by Maureen McGovern. It runs Dec. 4-23. You can find more information on the entire season at www.indianapolissymphony.org. •

__________

Visit ibj.com/arts for additional reviews, previews and arts discussion. Twitter: IBJarts