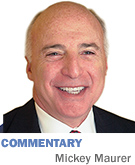 As a participant in the Spirit and Place Festival that took place in Indianapolis Nov. 6-15, I was invited to share
a personal story of how an ordinary space was infused with special meaning for me. This is my story.
It was late
August 1964. I was a first-year student at the Indiana University School of Law in Bloomington. The previous four years I
had enjoyed the picturesque campus at the University of Colorado, often while sitting on a blanket with friends on the quad
outside the Norlin Library. The inscription over the library door read, "Who knows only his own generation remains always
a child," an apt description of me at that time. During my college career, spaces—particularly inside the library—were
not inspiring.
The day before classes began at law school, I strode into the moot courtroom. No one else was there.
It was quiet, elegant, foreboding—exciting. This was the arena—the field of battle—where minds clashed,
theories were tested, and winners declared. (I always loved competition.) I sensed opportunity. I was inspired. That day began
a transformation from the idle years at the University of Colorado to an emergent interest in academic pursuits. I studied
the first year and posted the grades necessary to qualify for the law journal, on which I later served as an editor.
An event during those law school years is worth noting because it provided the thinking that set the pattern for my attitude
toward entrepreneurship, philanthropy and community service. Upon returning to law school for my second year, I was informed
that I was the recipient of a law-firm-sponsored merit scholarship. I was completely surprised—and unaware of the existence
of such a scholarship. I cannot remember the exact amount, but I believe the dean handed me a check for $1,500. It was a tremendous
amount of money. Before that, I had not enjoyed the luxury of a single undesignated dollar.
I determined to employ
this new resource immediately in an endeavor to become fabulously wealthy—in a hurry. After a quick study, I knew that
the commodities market was the answer. I invested the entire amount in corn futures. Within 10 days, I was broke. I never
invested in the commodities market again.
The experience taught me two principles, which I have adopted as part
of my "fundamentals of entrepreneurship." The first is conservatism. I operate all my businesses in a conservative,
balanced-risk manner.
Equally important, however, is the principle of community service. I understood for the first
time that there were good people in our profession who were giving back, and I began to recognize the obligation of successful
people to make available resources, including money and energy, to the community in which they live. I vowed that, when I
had an opportunity, I would give back to the law school that cared about me and that I would be one of those people who cared
about the community.
I returned to that space of inspiration in 2008, a space that had not lost its aura. It was
fitting that the moot courtroom should mark an effort by me to inspire others.
On that day and in that space,
on Dec. 4, my wife Janie and I said thank you to the Indiana University School of Law for providing the scaffolding for the
success I have enjoyed in my legal and business careers with a gift that will be used for scholarships—lots of scholarships.
(The truth of the matter is, with my miserable college grade point average, I should have thanked the law school for admitting
me in the first place.) It is our hope this money will lure the best students in the country to the law school moot courtroom
to become inspired and entranced like I was in August 1964.•
__________
Maurer is a shareholder
in IBJ Corp., which owns the Indianapolis Business Journal. His column appears every other week. To comment on this column,
send e-mail to mmaurer@ibj.com.
Please enable JavaScript to view this content.