The troubled Indianapolis City Market is looking East for a new direction. This summer, its executive director, Jim Reilly, visited Philadelphia and Cleveland to observe their successful urban markets and seek pointers that might be applied here.

Self-sufficient with a $3.5 million annual budget and 5.2 million customers annually, Philadelphia's Reading Terminal Market is what the Indianapolis City Market aspires to be. Located downtown with 78,000 square feet under roof, it opened its doors in 1892. Crowded inside, 80 full-time tenants and 12 part-timers sell a mix of fresh meat, seafood and produce along with a variety of prepared meals, from local favorites like cheese steaks to Italian, Greek and Mexican fare.

General Manager Paul Steinke said his market struggled in the 1970s and came close to closing. Philadelphia spent $35 million to fully restore the Reading Terminal Market in the mid 1990s. It benefits from Philadelphia's downtown population—at 80,000, the third densest in the nation. Many residents shop there for groceries, and they come from all walks of life. Steinke said it's common to see folks redeeming food stamps in line with clearly affluent shoppers, and a wide mix of locals mingling with tourists.

Reading Terminal enjoys several features City Market lacks, all of them contributing to its constant traffic flow. The famous Reading Railroad's main passenger terminal was built above the market, so vendors have always had a reason to take root.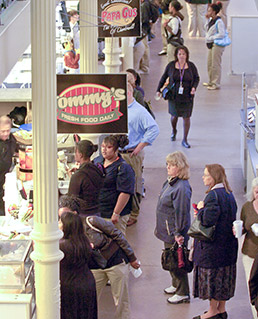 Indianapolis historic City Market is struggling with low traffic. (IBJ Photo/Robin Jerstad)
Today, Philadelphia's convention center is right across the street. There's also easy access nearby to the new train station and access points for the subway, bus or trolley. And Reading Terminal offers $2 per hour parking in a 5,000-space garage, the same as meters on the street, but far better than the $12 per hour for private lots.

"It all adds up to a lot of people passing near and through this market every day," Steinke said. "Our success is both a factor of our location, and the way we manage the place to keep it relevant to both locals and tourists."

With a $1.2 million budget and 1 million visitors annually, Cleveland's West Side Market offers different lessons. Its manager, George Bradac, said his market has 100 stands in the main building and another 81 vendors in its vegetable arcade. It was founded in 1912. Cleveland stopped subsidizing operations in the 1980s, although the city is still on the hook for capital improvements.

Located outside the city at a mass transit hub, West Side Market is open only four days each week. Bradac said the recession has been a struggle, but weekends are still busy.

Perhaps most important is West Side's continual marketing. Its tenants charge themselves dues that are applied to print, television, radio and billboard ads.

"Tenants are very involved in the operation of this building," Bradac said.

Both Reading Terminal and West Side charge staggered rent rates for different kinds of stands. Fresh food vendors pay less than prepared food vendors do. The best locations inside the markets also go for a premium.

Steinke advises Indianapolis to aim for critical mass inside the City Market. Ultimately, he said, the success of an urban market rests on its mix of stands, and the ability of people to easily reach them.

"It's all about leasing and finding vendors known for service and value, having them all under one roof," he said. "You can reach a point where the total is greater than the sum of its parts. Any one of our vendors in a storefront might not do as well as in a group."