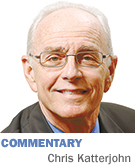 Long ago, when I was still swimming around in my mother's uterus, my father, a radiologist, toyed with the
idea of naming me Xavier Ray.
He thought it would be funny to have a son he could call X-Ray.
Yeah,
my dad was a pistol. But fortunately for me, my mother prevailed in the naming department.
I bring this up because
I have a confession to make, and at this point, I think the statute of limitations has expired on the questionable journalistic
strategy I'm about to reveal.
In the first six months of IBJ's existence, when I was the only
staff writer, I occasionally wrote stories under the pen name Ray Xavier. I flipped the first and last names because I thought
astute readers might somehow make a connection I didn't want them to.
You will understand what I mean when
you read on.
Anyway, my boss at the time allowed this practice because we didn't want our readers to think
Chris Katterjohn wrote almost every story in the newspaper. (By the way, after we hired our first reporter six months later,
we stopped doing it.)
Excusable, I suppose, and reasonable enough considering IBJ was a mere zygote at
the time. But let me go on.
One of the first stories I wrote under that pseudonym was in the June 9, 1980, issue
about medical malpractice. Under the headline, "One Doctor's View: A Sketch of Medical Malpractice," Mr.
Xavier quoted one physician exclusively and extensively—"a radiologist who did not wish to be identified."
You know the punch line; the radiologist, of course, was my father.
(We are all thankful IBJ's
journalistic standards have advanced considerably since those early days.)
I share this with you only because,
the other day, while I was looking in old issues for something else, I came across the story and read it. Aside from the fact
that it was poorly written and poorly edited (remember, we were just a zygote), I discovered that my father was discussing
the same issues that are at the forefront of today's health care debate.
This was 30 years ago.
"Malpractice insurance is something every doctor must contend with as a now major expenditure," he said. "The
word itself causes insecurity in the minds of anyone outside the medical profession, while to the rest of us it's an
everyday fact of life that makes medical costs soar, and our effectiveness no better than before."
Sound
familiar? How about this:
"This gets into what I consider defensive medicine, and it's seen mostly
in the emergency room," he added. "In order to protect themselves, doctors must perform unnecessary procedures
and operations."
I think I heard somebody say that yesterday on CNN.
The point is, the unsustainable
system of health care that we now find ourselves participating in has been decades in the making. What makes us think we can
fix it—really fix it—overnight?
I hearken back to a letter submitted by LDI Chairman Andre Lacy and
published two weeks ago in our Nov. 9 issue. Lacy made some simple yet salient points.
"Health care is a
very complex matter that took a long time reaching its current level," he wrote. "I firmly believe that our nation
needs to address the many issues regarding the cost and delivery of health care."
But, Lacy adds, "I
am very concerned that Congress is moving too fast and will create a 'quick fix' that will add measurably to our
national debt and that government bureaucracy will fail to deliver what we all want."
He suggested that we
commit to health care reform by 2012 and go slower in addressing the problems that need to be resolved. The result would be
a better plan all of us could live with.
I think it's a good idea, and I'm sure both Xavier and my
father would agree.•
__________
Katterjohn is publisher of IBJ. To comment on this column,
send e-mail to ckatterjohn@ibj.com.
Please enable JavaScript to view this content.