Huntington National Bank's former senior vice president for commercial real estate in central Indiana has filed a lawsuit against the bank over his firing earlier this year and claims he is a victim of age discrimination.

Michael Lewis, 53, filed a complaint with the Indianapolis office of the U.S. Equal Employment Opportunity Commission Aug. 13 and sued Huntington Oct. 15 in Marion Superior Court.

According to his lawsuit, Lewis became a Huntington employee on July 1, 2007, after the bank acquired Salineville, Ohio-based Sky Bank. He claims to have had an "exemplary" employment record and to have received an "outstanding" rating in his most recent performance review, conducted March 23 by Huntington's Indiana Regional President Mike Newbold.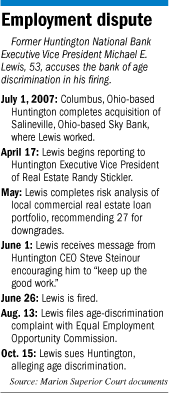 On April 17, according to the suit, he got a new boss, Huntington Executive Vice President of Real Estate Randy Stickler. Lewis then spent the month of May conducting a risk analysis of the bank's local commercial loan portfolio, which resulted in 27 downgrades. He was fired June 26.

The Columbus, Ohio-based bank, which is the fourth-largest in Indianapolis ranked by deposits, has seen its loan portfolio deteriorate in the recession. The percentage of its total loans listed as non-performing assets has increased, from 2.53 percent in September 2008 to 6.28 percent.

According to Lewis' lawsuit, Huntington initiated a general work-force reduction early this year, under which he would have been entitled to a lump-sum payment equal to one year's compensation, or $212,846. He claims to have turned it down after consulting with Newbold.

The lawsuit says, "Newbold indicated and encouraged Lewis to not accept the severance package, that Lewis' services were critical in order to manage the deteriorating real estate market conditions."

According to his EEOC complaint, Lewis got a personal message from Huntington CEO Steve Steinour on June 1 "encouraging me to 'keep up the good work.'"

Lewis' lawsuit says that, after he was fired, some of his duties fell to a younger Huntington employee he previously supervised. He also claims the bank advertised for a new Indianapolis commercial real estate team leader after firing him, but at a pay grade $100,000 lower than his.

Lewis could not be reached for comment, and his attorneys with Alerding Castor Hewitt LLP did not answer questions before IBJ deadline. Newbold declined to comment on the bank's behalf.

A dismissal letter dated July 22 and signed by Huntington's human resources vice president shows the bank's side.

"Your employment was terminated due to poor job performance in managing your portfolio, including lack of management of the business segment to identify problem credits in a timely and thorough manner," reads the letter, which was requested by Lewis and is included in the lawsuit file.

According to the EEOC, age discrimination complaints are on the rise. Nationally, the EEOC received 19,103 such complaints in 2007, then set a new record in 2008 with 24,582. But the vast majority are dismissed for various reasons.

Unless there's direct evidence, such as an employer actually saying a firing was prompted by an employee's age, age discrimination is difficult to prove. Still, Lewis may have a legitimate grievance, said Kathleen DeLaney, who practices employment law at locally based DeLaney and DeLaney LLC.

Based on the facts presented, "that is a pretty dramatic shift in how the company is viewing him in a relatively short time."•