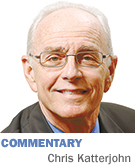 Ten years ago, Dodson Group CEO Jim Dodson came to IBJ with an idea to launch a program that would recognize
best practices in the not-for-profit community and reward organizations that practiced them.
And not just with
a pat on the back—with hard cash.
Dodson was convinced he could find sponsors that would put up the money,
say $10,000 apiece, for each organization that was honored. The recognition would be great, he thought, but passing out real
dollars would make the program unique and could have a real impact on organizations that received it.
Furthermore,
Dodson was willing to put his money where his mouth was. He told us his own company's foundation, the Sycamore Foundation,
would be one of the sponsors.
We thought it was a great idea. So, with IBJ as media sponsor and the support
of many other businesses, foundations and people, the Indiana Achievement Awards was born.
Since 2000, six different
Hoosier not-for-profits have received $10,000 every year. Do the math. That's more than 50 organizations and more than
a half-million dollars statewide.
That spells i-m-p-a-c-t.
Beyond the financial benefit to each of the
winning organizations, the IAA program has offered up its winners to the Indiana not-for-profit community as examples of how
to work more efficiently and effectively.
In the early years, the awards were actually passed out at a luncheon
that was part of an all-day professional development seminar for not-for-profit executives.
By staging it there,
we reasoned, not-for-profit leaders could see firsthand the best practices and programs that were making an impact for Hoosier
organizations and the constituencies they serve.
That was part of the goal from Day One.
It isn't
just about winning an award, according to Gene Tempel, who was director of the Indiana University Center of Philanthropy and
an early supporter of IAA.
It's about moving the needle.
Now CEO of the IU Foundation, Tempel
says, "I know of nonprofits that didn't get the award one year, but then took deliberate steps to prepare to win
in future years. By positioning yourself to win the award, you are also positioning yourself to do your work better."
Some of the winners have shared what winning means, and one of the biggies is validation, not only for the organization
itself to feel good about what it's doing, but also for its donors to feel more confident that their investment is supporting
an organization that is doing things right.
In spite of all this good, IAA almost went out of existence this year.
Dodson, who has been the driving force behind IAA since its inception, was forced to refocus his attention and resources
on his own agenda after discovering his CFO had been stealing from The Dodson Group.
That's a lot to deal
with even when you're not battling a recession.
"I thought most likely there wouldn't be a 10th
year [for IAA]," Dodson tells us in this week's issue. (He's our 2009 Mike Carroll Award winner; see page
3.)
But IAA friends and supporters rallied behind Dodson and the program to make sure it celebrated a 10th anniversary.
Even better, the program has found a new home moving forward.
Henceforth, IAA will be under the auspices of the
IUPUI Solution Center, an outfit created in 2004 to facilitate interaction between the school's professors and researchers
and the business, government and not-for-profit communities.
Solution Center Director Teresa Bennett is excited
about the opportunity to perpetuate the Indiana Achievement Awards, as is Richard Gordon, program manager for the Solution
Center's specific initiative targeting not-for-profits.
I'm happy about it, but no doubt happiest of
all is Dodson, whose baby will live on.•
__________
Katterjohn is publisher of IBJ. To comment
on this column, send e-mail to ckatterjohn@ibj.com.
Please enable JavaScript to view this content.