A swooning stock market and declines in ticket sales, concession revenue, suite rental and advertising income have caused
the Indianapolis Indians' financial fortunes to plummet this year.
As a result, the baseball franchise is indefinitely discontinuing its years-long stock buy-back offer
Dec. 31.
Indians profits declined from $1.23 million
in 2008 to $459,603 this year. Despite that, the team's board voted unanimously
to give a $250 dividend for each of 757 outstanding shares.
That's down from $350 last year.

Schumacher
Almost every revenue line saw a small drop, with the biggest decline coming in
stadium signboard advertising from $592,850 in 2008 to $332,200 this year.
"All those things just added up," said Indians Chairman Max Schumacher.
"A lot of it has to do with the economy and people having
less disposable income."
The team was also hurt by five
rained-out games, including the July 4 game. That game typically sells out the 15,000-capacity Victory
Field.
The team held operating expenses in check, increasing only slightly
from $7.3 million in 2008 to $7.48 million this year.
In an attempt to bolster revenue, the Indians are increasing ticket prices for the first time
in three years by $1 to $14 for box seats, $10 for reserved seats,
and $9 for lawn tickets.
The economy had another big impact
on the team. Interest and dividend income from the team's investments
plummeted from $354,051 in 2008 to $165,464 in 2009. But that's not the worst
of it.
The minor-league franchise realized a loss
of $648,306 on the sale of marketable securities on the team's
most recent ledger. It earned $97,767 on the same line item in 2008.
"I decided the best thing to do was to bite the bullet and sell everything
that was a loser," Schumacher said.
The
Indians started divesting those stock-market losers in September 2008.
"We reinvested the funds immediately in other mutual
funds," Schumacher explained. "It looks bad in the
short run, but will benefit the corporation greatly on our financial statement in 2010."
The Indians are not alone in their financial woes.
"Lots of professional sports teams, especially those that have experienced some level of profitability
in recent years, had funds in stocks and other properties that took a big hit as the bottom fell out
of the economy," said Andrew Zimbalist, a professor at Smith College in Northampton,
Mass., and a noted sports economist. "For a small or midsized franchise, that can
be a sizable financial hit."
The financial hit for the Indians
was so sizable that Schumacher and the team's board decided to
suspend the team's stock buy-back offer. The Indians had been
offering $21,328 per share, using a formula based on annual earnings
to value the team. That formula was supplied by National City Bank. The shares bought
back by the team are retired, giving the remaining stockholders a bigger piece of the ownership
pie.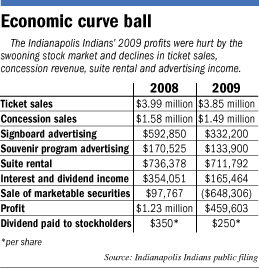 The formula would have lowered the buy-back offer by about $9,000 per share, Schumacher
said. A buy-back offer of $12,000 would put a $9.1 million value
on the franchise, which is a AAA affiliate of Major League Baseball's
Pittsburgh Pirates. Baseball America magazine and Pink Sheets stock traders
making recent offers for the team's stock have pegged
the team's value at about $20 million.
"We thought
the new buy-back price undervalued the franchise, and we felt
there would have been virtually no offers generated based
on the formula," Schumacher said. "And we didn't
want to roll out a new formula because we had a bad year."
Continuing to offer the buy-back at the current formula "would have painted
a darker financial picture" than is reality, Schumacher said.
Despite the team's economic swoon, it has $1.2 million in checking
and savings accounts and money market funds – which should be enough to cover
any stock buy-backs that happen before the program is suspended at the end of the
year.•
Please enable JavaScript to view this content.