This week, two holiday season staples.
__________
In recent years, I've written with frustration about the Indiana Repertory Theatre's last few Shakespeare offerings,
which sacrificed depth and resonance in an effort to get audiences in and out in 90 minutes.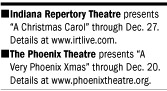 So I'll admit that when I heard that the IRT's signature production of "A Christmas Carol" was getting
the hour-and-a-half trim this season, I couldn't resist diminishing my expectations as I anticipated yet another express-train
production. Sure, it would stop briefly at familiar scenes, but without the luxury that came with the slower pace of previous
years, would it still be worth the time?
I'm happy to report, though, that the now-intermissionless and smaller-cast production loses little in the downsizing.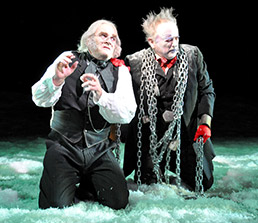 Scrooge is once again visited by the spirit of former business partner Jacob Marley in IRT's "A Christmas Carol."
(Photo Courtesy Indiana Repertory Theatre)
Sure, it takes some adjusting to the same actor playing Bob Cratchit and Young Marley. And that nephew Fred confusingly covers
Young Scrooge. While some of the lovely singing from previous iterations is lost, what's important remains—and
may even be a bit improved. The show keeps moving, but it slows down when needed, such as in the celebratory Fezziwig party
in Christmas Past. There, aided by the lovely fallen snow, the spirit of Dickens—and the holiday—shines.
Supporting standouts this time around include veteran IRT actors Milicent Wright and Constance Macy, both rich in multiple
roles. Ryan Artzberger has a terrific turn as the Schoolmaster. Cora Vander Broek hasn't quite found a focus or compelling
voice for the ghost of yesteryear, but David Alan Anderson makes for a boisterous, fun Christmas Present spirit and silent
Artzberger is a sufficiently creepy guide to Christmas Future.
__________
I'm glad once again to be able to say that "A Very Phoenix Xmas" is the best yet. But I also must point
out that it has evolved away from being, in part, a showcase for local writers. The program notes on the playwrights indicate
only one former Hoosier in the bunch.
This doesn't speak well for local scribes who answered the call for submissions this time out. But, as an audience member,
I selfishly prefer a higher-quality show over a less parochial one. (Of course, a top-notch, locally written show would be
wonderful.)
The quality upgrade begins with the first piece, "Happy Hannu-Clog." It starts a bit fuzzy, but finds big laughs
once it focuses on a man whose penchant for boots rivals the love women stereotypically experience for shoes of a different
kind. "The High Cost of True Love" offers a clever variation on the standard holiday news report about the dollar
value of the items featured in "The 12 Days of Christmas." And a goofy airport scene, "Connections,"
charms without becoming cloying.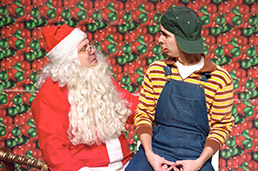 Santa's place of birth is challenged in a satiric scene from "A Very Phoenix Xmas." (Photo Courtesy The
Phoenix Theatre)
Best of the bunch is Daniel Guyton's "Death of a Snowman," in which actor Michael Shelton gives the best
performance I've seen from him (and I've seen some fine ones) as a snowman discussing life and death with a young
girl (Amanda Lynn Meyer).
There's more in the first act, including a series of fun, chummy video intermezzos taking us backstage at the Phoenix.
The first half closes with an irony-free, three-man tap dance titled "Little Drummer Boyz" that provides just
the kind of inexplicable pleasure that sends audience members into the lobby at intermission ready to buy tickets for their
friends and family.
Act two isn't quite as consistent, despite a well-played opener of a bedroom scene titled "The Forty-Three Second
Kiss." This time Shelton is paired with Sara Riemen, who proves something of a master of the slipped smile.
The main culprit in the second-act slow down is "America's Idle Talent," a tired and half-hearted framing
device—mixed with some tired and half-hearted audience participation—that gives the show an excuse to feature
some decent and well-sung novelty songs (again, written by out-of-towners).
Redemption can arrive from the unlikeliest places, though, and in this revue it comes from Kurt Vonnegut's "Sun
Moon Star" account of the nativity from a child's point of view. It's presented in a creative, evocative,
and perhaps unforgettable way. It—and much of the rest of the show—make clear that "A Very Phoenix Xmas"
is not a slap at the holidays. The Phoenix clearly loves Christmas in its own, special way.•
__________
This column appears weekly. Send information on upcoming arts and entertainment events to lharry@ibj.com.
Please enable JavaScript to view this content.