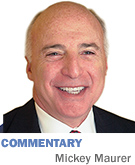 Remember Cousin Eddie? He is the obstetrician/gynecologist in Houston I wrote about who tried to cut the mustard
in the hot dog business ("There ain't no hog in the Yoso Dog"). He dreamed of having his own restaurant
and, against the advice of friends, he went to the dogs.
I again wrote about Cousin Eddie when he hit the superfecta.
He plucked down $24 at Laurel Park and rooted home the first four horses in exact order, including a 40-to-1 long shot. His
$24 bet returned more than $21,000.
I last wrote about Cousin Eddie when he arranged for us to have lunch with
George H.W. and Barbara Bush at their summer retreat in Kennebunkport, Maine. Eddie crowed, "We got the appointment
confirmed right from the top. Read my lips."
Eddie was eager to tell President Bush, a fellow Texan, that
he had delivered one of his grandsons. We were treated to a private golf cart tour of the grounds by an intern who showed
us a statue of a cow with handprints of all the Bush grandchildren. But after that lap around the cow, the cart headed back
to the parking lot. No lunch.
Cousin Eddie is nearing the end of his memorable career. Here's how it began.
In the spring of 1963, Eddie was working in Bloomington at Howard Johnson as a waiter while awaiting acceptance to medical
school. Early that June, he received a letter stating he would not be admitted but was an alternate. He thought, "I
cannot accept this."
He drove his old Ford to the Indianapolis Medical Center and walked into the office
of the dean of admissions, Dr. John J. Mahoney. Mahoney, a tall man with gray hair and thick glasses, was sitting at his desk
with his sleeves rolled up smoking a cigarette. Eddie showed him the letter that had come by registered mail and was adamant.
"I cannot accept this."
Dean Mahoney invited Eddie into his office while he reviewed the file. He informed
Eddie that he had barely passed the medical aptitude test but that he had scored extremely high in his interview. Eddie inquired,
"Has anyone ever succeeded in medical school after scoring poorly on the aptitude test and doing well in the interview?"
Mahoney said, "Of course." Eddie replied, "Well, so will I." Eddie talked about his roots in rural
Vincennes and why he wanted to be a doctor. Mahoney offered Eddie a cigarette. A friendship was forged.
Three days
after medical school began without him that fall, Cousin Eddie received a phone call from Mahoney's office informing
him that if he still desired to attend medical school he needed to show up at 8 a.m. the following day. Eddie met Mahoney
on the steps of the medical school as instructed. Mahoney said, "Ed, we had 202 acceptances but two people didn't
show up. The committee was going to cut off at 200 but I looked down and saw your name. I said, 'I know this man. He'll
make a good doctor.' And why have alternates if we are not going to use them? So they said, 'Fine.'"
Four years later, Mahoney handed out the diplomas at graduation. When Eddie strode across the stage, Mahoney whispered,
"Ed, I've been following your progress. You'll make a fine doctor." Eddie distinguished himself in
his practice, delivering more than 10,000 babies and creating a number of innovations for which he received patents.
Years ago, Cousin Eddie learned Mahoney had died. He sent a note to his widow telling her how much Mahoney meant to him.
In return, Mrs. Mahoney sent Eddie a letter replying, "I know all about you. My husband had followed your whole career
and knew what you had done, how you've done, and all your inventions and honors. You are one of his proudest accomplishments."
Mahoney fulfilled his duties as dean of admissions with compassion and understanding. He saw something special in
a young man and gave him an opportunity. Mahoney was right. Cousin Eddie is a special guy.•
__________
Maurer is a shareholder in IBJ Corp., which owns Indianapolis Business Journal.  His column appears every
other week. To comment on this column, send e-mail to mmaurer@ibj.com.
Please enable JavaScript to view this content.