Legislators are preparing to punt on 2009's "must-solve" business issue in the hope of a federal bailout. However, it's anybody's guess how Washington will respond.
Business leaders howled last spring when the General Assembly passed, and Gov. Mitch Daniels signed, a bill increasing the wage base and rate on payroll taxes to shore up the insolvent Indiana Unemployment Insurance Trust Fund.

In 2010, expect another round in the trust fight. Senate Republicans already have announced their intention to push the bill's inception back a year.

"The roughly $250 million or slightly more we'd raise with premium increases this year would have a very small impact on a deficit that will rise to $3 billion," said Sen. Brandt Hershman, R-Wheatfield, and chairman of the Senate Tax and Fiscal Policy Committee. "The best thing we could do for businesses is delay implementation until we have a better picture of what the federal government will do and get a better handle on what economic conditions will be like."
But House Democrats worry the strategy could risk harsh federal penalties.

"You can't just walk away from a decision you planned and spent a great amount of time working on," said State Rep. David Niezgodski, D-South Bend, and chairman of the House Labor and Employment Committee. "I do not foresee reopening [House Enrolled Act] 1379."

It took a decade for Indiana to get into the mess. Current projections anticipate taking even longer to get out.

Back in 2000, the trust, which pays temporary benefits to the jobless, had a positive $1.6 billion balance. But Indiana has spent more than it drew in taxes every year since. As a result, the trust went into the red last year and began borrowing from Uncle Sam. Indiana opened 2009 about $371 million in arrears.

The deep recession only made the problem worse. With state unemployment pushing 10 percent, Indiana expects its trust to close 2009 with $1.7 billion in debt. By the end of next year, the total is projected to approach $3 billion.

According to the Indiana Department of Workforce Development, the trust won't break even again until at least 2014. And its debt won't be retired until 2022.

Indiana is far from alone in its predicament. As of Dec. 2, the U.S. Department of Labor reported half of all states had begun borrowing from the federal government because their unemployment systems were out of cash. Indiana is one of eight states with debts already over $1 billion. California leads the way with $5.1 billion. Michigan's debt tops $2.9 billion and Ohio's stands at $1.6 billion.

Problem is, the federal system is broke, too. Doug Holmes, president of the Washington, D.C.-based business advocate UWC: Strategic Services on Unemployment & Workers Compensation, points out as many as 40 states will borrow next year, and their total unemployment insurance debt will top $90 billion by 2012.

To fund its unemployment insurance reserve, the federal government charges its own payroll tax on top of states'. It has levied 6.2 percent of every employee's first $7,000 in wages, Holmes said, but the feds kick back up to 5.4 percent in credits to states in good standing.

The big question is whether the Obama administration will begin rescinding those credits—thus hiking taxes on employers—or hypothetically forgive some or all states' debts.

So states are hedging their bets and waiting to boost taxes to eliminate their debts.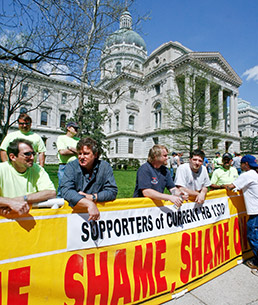 Union carpenters in April protested at the Statehouse about cuts in jobless benefits. (Associated Press photo)
"There's an analysis of risk and competitiveness being done all over the country right now," Holmes said. "They're all trying to deal with a situation where you don't want to increase taxes on employment in 2010 and 2011 to the degree that you jeopardize hiring new employees. But you also don't want to have so much debt that you can't eventually overcome it before the next recession."
That's exactly what led Hershman to propose delaying implementation of the bill Indiana passed last year. He said it's impossible to tell right now what will emerge at the national level. The spectrum of possibilities spans the political divide, he said. On one end, there's the chance Obama could nationalize the system, mutualizing the problem across 50 states, which might benefit manufacturing-heavy Rust Belt states like Indiana.

On the other end, the unemployment system could be overhauled entirely and made the responsibility of individuals, with their own personal insurance accounts built up over every employee's working life.

"There will come a point in which we'll have to right the system. But there may be significant federal action that gives us a clearer picture on our options for doing so," Hershman said. "[Until then], for better or worse, one of the tools the federal government has available to it is the ability to deficit spend, which is something the state of Indiana doesn't have ability to do."

But Niezgodski worries Uncle Sam may run out of patience for states that make no attempt to slow the pace they're adding unemployment insurance debt.

"This is not just, 'Don't worry, the federal government will bail us out.' We've got to help ourselves," Niezgodski said. "At some point, if the federal government says, 'This is what we're going to do to begin this process … we cannot put ourselves in a position to not receive the greatest aid if aid is to come.

"What I'm most concerned about is doing nothing."•