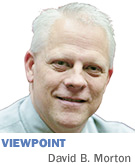 Don't be confused: Professional football teams (and all other professional and intercollegiate sports, too) are businesses. Decisions are made for business reasons and not driven by customers (you, the fans).

The Indianapolis Colts' decision to pull the plug on a potential undefeated season was made for one reason: "What must we do to win Super Bowl XLIV in Miami on Feb. 7?"

Did fans really think if they yelled, screamed or booed loudly enough that Peyton Manning and company would trot back on the field and the Colts would reverse what they said all along was going to happen (and which has occurred in previous seasons)?

While it's not written in the "Unofficial Indianapolis Colts Creed to Fan Conduct," fans are to buy season tickets (including preseason), wear official NFL-licensed merchandise (made by an exclusive licensee), watch and/or listen to team-produced game broadcasts and other radio and television programs, and pay taxes to fund the stadium. In short, fans are to commit their hearts and wallets to what teams want—money.

Professional sports is a community rallying call that can be embraced without an alma mater getting in the way. There's no debate about "My Big Ten school" versus "your mid-major," "house divided," or, "Are college athletes really student-athletes?" No, pro sports is city/state/region at opposition against another. And the fans are in tow heart-to-heart.

For some, sports runs as deep as any conviction they have. This passion often trumps family, religion, politics, community, and—for those who brave subzero temperatures shirtless—reality. Sports provides fans a release from what they loathe (work) Monday through Friday and a way to collectively connect with a team in a "personal" way, or so they believe.

Although fans want to think team management cares about what they want, the reality is that team management wants you to embrace everything about the team until business decisions take priority. In other words, you can have a front-row seat to the action just as long as you stay off the playing field.

Why? Because it's a business. And business decisions are not made with consideration of emotional influences, especially from blue-face-painted zealots.

Of course, the Colts players wanted to become the '72 Dolphins of today and complete an unprecedented 19-0 season. But they, too, realize Colts management made a business decision.

Team owner Jim Irsay's comment, "I would have loved to have seen it" demonstrates the struggle between passion and business that's possible even within a franchise owner. But his passion is on a custom-tailored sleeve paid for by a business.

The Colts' statement, "We're going to do what's best for the football team," should be interpreted as, "We like it that fans care so much about our team, but we're running a business to win championships."

Chasing history and records is for fans (unless you're Reggie Wayne or Dallas Clark). Winning championships, and in this case the Super Bowl, is the only priority for the franchise.

And, aren't championships what fans want more than anything, anyway?

In the end, whatever holiday and football-lore joy was sucked out of Lucas Oil Stadium by the Colts' decision to not chase a 19-0 perfect season will be resolved either when the Colts are defeated by Jan. 24 or when they win Super Bowl XLIV.

Otherwise, the damage done Dec. 27 may be longer lasting than the Colts would have imagined—at least until the release of the official NFL-licensed Indianapolis Colts Snuggie!•

__________

Morton is a principal with Sunrise Sports Group LLC, an Indianapolis sports marketing firm.