Doctors are pushing again to strengthen their hands in contract negotiations with health insurers—most notably the state's big dog, Anthem Blue Cross and Blue Shield.

A bill introduced in the Legislature Jan. 5 would ban contract clauses inserted by Anthem and other health insurers that require physicians to accept all of an insurer's customers or none of them. Instead, House Bill 1022 would allow doctors to cap the number of an insurer's patients they accept or negotiate a cap in advance.

Supporters of the bill, written by two Democrats and two Republicans, think it will have more momentum than when the idea was first introduced a year ago—and went nowhere.

"Our chances have improved over last year," said Mike Rinebold, a lobbyist for the Indiana State Medical Association, which represents doctors throughout the state. "With the continued education of the [legislators], and the support that we've been able to receive, we think our chances are a little better."


Rinebold
The idea was recommended 16-2 in an October vote by the Health Finance Commission, a group of legislators that evaluates health issues. If Indiana adopts the law, it would be only the second state after California to do so.

But health insurers and employer groups oppose the bill. Representatives of Anthem, the Indiana Chamber of Commerce and a health insurance trade group all told the Health Finance Commission that the bill would discriminate against patients.

"This legislation allows the provider to reap the financial benefits of seeing some of an insurer's members, while shutting the door on others insured by the same company. We believe that is discriminatory," wrote Tony Felts, a spokesman for Anthem, in an e-mail.

Health insurers negotiate contracts with doctors to get discounts on their services in exchange for bringing large numbers of patients through their doors. Insurers then market their plans to employers, in large part, by touting all the doctors that are "in network."

Doctors, however, are concerned that as Anthem's market share has grown, more and more of their patients are getting the largest discounts, which crimps their revenue. Anthem customers receive discounts on services that typically range from 25 percent to 50 percent, but can be as large as 75 percent.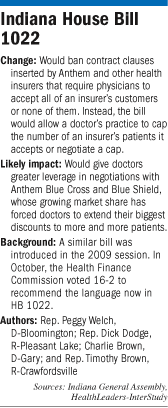 The issue centers on primary care physicians, who have complained for years that Anthem's burgeoning market share forces them to accept low-profit reimbursement payments from Anthem because they can't afford to shun the large number of patients covered by Anthem.

In the employer-sponsored market, which is the most lucrative for doctors, Anthem claims at least one-third of all patients in 13 of the state's 14 largest markets, according to 2008 data from HealthLeaders-InterStudy, a Tennessee-based market research firm.

Other health plans owned by Anthem's parent company, Indianapolis-based WellPoint Inc., also take advantage of the Anthem discounts, meaning 40 percent to 50 percent of Hoosier patients are getting the largest discounts.

In the Indianapolis area, Anthem's market share surged to 42 percent in early 2009. Combined with its other plans, WellPoint claims a 55-percent share of the Indianapolis-area commercial market.

"As business owners also, the providers should have the ability to say that the cost of doing business with a particular insurer has become too high or takes up too much of revenue," Rinebold said.

He noted that Anthem's computer problems in 2008 delayed payments to physicians for months, and that the problems have yet to go away completely. Physicians, he said, should have more leverage to hold Anthem accountable for such service failures.

But Felts, the Anthem spokesman, said the bill is sure to drive up costs and make patients in some areas drive farther for medical care. He also noted that HB 1022 would allow doctors to limit the number of patients they accept from state-funded insurance plans for low-income Hoosiers, such as Medicaid and the Healthy Indiana Plan.•