The 3-year-old law firm Alerding Castor Hewitt already has some big-name clients, especially in information technology.
Its new attorney, former ExactTarget general counsel William Boncosky, likely will bring even more into the fold.
The nine-attorney firm last month hired Boncosky, who'd worked at the e-mail marketing software maker since 2002.
During his span with ExactTarget, the company became Indiana's fastest-growing IT firm, with employment rocketing from
14 to 500.
Along the way, Boncosky helped steer ExactTarget through multiple venture capital deals and a planned
initial public offering that the company shelved due to the recession.
"To me, the big draw of coming to
this firm is the entrepreneurial attitude," said Boncosky, 42. "I feel like, with my experience, man I can help
[emerging software companies] through a lot of things really quickly and really efficiently. That can keep them from making
some of the mistakes we made along the way."

Boncosky
Alerding Castor has a business focus and a list of clients that tops 300. Many are promising Hoosier
information technology startups, like locally based Compendium Blogware, or established financial institutions, like Muncie's
First Merchants Bank.
The firm won't disclose revenue except to say it doubled in 2009. Its attorneys attribute
the growth to their strategy of working as a team to meet clients' needs. They also pride themselves on providing more
comprehensive services than lawyers traditionally offer clients.
Rather than thinking strictly about billable
hours, the attorneys aim to serve companies holistically, as an external in-house counsel to budding entrepreneurs.
"Most firms in central Indiana are a collection of islands that practice law together," said attorney Brian
Hewitt, 51. "I don't care if you're a seven-member firm or a 350-member firm, you have isolated practices
that overlap occasionally."
"We're the people whose names are number one on the speed call
with our clients, because everything they're doing, we're part of that effort and part of that team."
Michael Alerding, 38 and David Castor, 35, founded the firm in 2007. Hewitt joined their team in June, bringing
along a solo practice he'd built for two decades.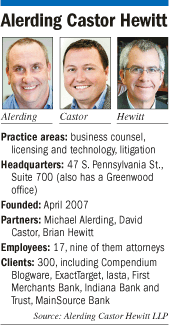 The firm helped 17 companies, all but one from Indiana,
raise capital during the deep recession last year. Alerding Castor isn't directly involved in brokering deals or investing
in companies. But its attorneys regularly make introductions between entrepreneurs and the people who do.
And
just as important, Alerding Castor assists entrepreneurs with the thorny legal issues of business structure that trip up many
startups. Firms need more than a technology that works and is scalable, Castor said. They also must have real customer demand
and have the potential to generate profit.
The counsel that firms like Alerding Castor provides is invaluable
for neophyte startups, said Chris Baggott, founder of fast-growing local IT firm Compendium Blogware and a co-founder of ExactTarget.
It's easy for inexperienced entrepreneurs to make a lot of "fundamental mistakes right out of the block,"
such as giving up too much equity in a desperate quest for cash, or building too big a board of paid directors, said Baggott,
who works with lawyers at Alerding Castor and at other firms.
"I've seen too many messed-up deals,
with good ideas and smart people, but the structure is so dysfunctional that future investors are not [motivated] to come
in, because somebody's brother-in-law invested two years ago with $100,000 and owns 52 percent of the company,"
Baggott said.
"I always like to tell the entrepreneur they're doing the investors a favor, never
forget that."
Alerding, Castor and Hewitt all spent time at much larger practices before going out on their
own. That's a common formula for boutique firms, said Gary Roberts, dean of the Indiana University School of Law at
IUPUI.
"Many times, new firms have people from another law firm that have a very optimistic view of where
their practice is going, and they don't want to share down the road the windfall they're going to reap with partners
of a big law firm who aren't going to be doing as well," he said.
"So they break off and form
a boutique law firm to reap all the riches and rewards."•
Please enable JavaScript to view this content.