This week, "The Color Purple" brightens Clowes Hall and young performers take the stage for an ear-opening
benefit.
__________
Timing, in the arts, may not be everything, but it's usually something. Case in point:
The national tour of "The Color Purple," which came to town early in the season (it ran Dec. 29
to Jan. 3 at Clowes Hall) rather than late.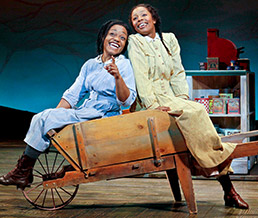 Celie (Kenita R. Miller) and Nattie (LaToya London) share a happy moment before their long, forced separation in the national
tour of "The Color Purple," which was featured at Clowes Hall Dec. 29-Jan. 3. (Photo Courtesy Paul Kolnik)
Why did this matter? Because the tour is about to drop its Equity status. That means a different, non-union cast will replace
the current company in just a few months. Had the show arrived here in April, we wouldn't have had a chance to see the
transformative Kenita R. Miller as the brutalized heroine. Or Felicia P. Fields as the outspoken Sofia. And that would have
been a big loss.
Not that "The Color Purple" wouldn't have a chance of holding up. It's just that
its flaws would likely be clearer.
Even as it stood, a fair amount of forgiveness was necessary on the part of the audience. A lot of plot
is crammed in, sometimes leading to a justifiable, "Huh?" reaction from those trying
to keep track of the details. Transitions were often blunt and awkward (early on, a baby was taken from
her mother and then, rapid flash forward, we found Mom playing happily with her sister). Some songs and dances seemed cut
off before they reached full power. I wasn't surprised to learn from a cast member during a post-show talk-back session
that the first reading of the show was more than 4-1/2 hours.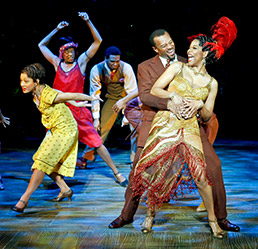 The opening of a juke joint is a good excuse for the big production number "Push da Button." (Photo
Courtesy Paul Kolnik)
Conventions of theater dictate that a show can't be that long. And while I admire "The Color
Purple" for its determination to work as much of the novel as possible into the musical, the density
often weighted it down. It didn't feel too long, but it rarely allowed time for the audience to
digest the changes its characters were going through before zooming along to the next big moment. Important information
was rattled off quickly in dialogue and in lyrics, and the inconsistency of Clowes Hall sound sometimes made picking out those
details difficult.
All that said, "The Color Purple" often soared. An outstanding cast—including some
members of the original Broadway company—raised the roof in thrilling ways. Kudos, too, to the makeup and costume
departments that believably aged the actors over the decades-long story. And to whoever made sure we got the show in December.
__________
I wasn't expecting a large crowd to be gathered at Shortridge Magnet High School's Caleb
Mills Auditorium on New Year's Day. In fact, I fully expected to be (and was) one of the only people there who
wasn't family or friend of the performers. But I was curious to see what the minimally staged "New Beginnings:
A Cabaret," a benefit for Shortridge's Speech Team, would offer.
The hook that led me to the evening of song was the involvement of some of the same performers who staged
Jason Robert Brown's "Songs for a New World" in Carmel two years ago. That outstanding
production, mature beyond its cast's years and terrifically sung, still lingers in my memory and
was echoed in its song "A New World," which also opened this "New Beginnings" show.
While I'd love to see what these dozen young performers would have done with a Lerner and Lowe or even
a Stephen Sondheim song, that isn't what "New Beginnings" was about. For this generation of talent, Jason
Robert Brown (who penned "Songs for a New World") is its Cole Porter, Stephen Flaherty and Lynn Ahrens ("Ragtime,"
"Once on this Island") are its Rodgers and Hammerstein, and "Rent" is its "Gypsy." No
surprise that only one song in the evening's round-robin of tunes premiered before 1990.
Highlights included a stirring "Wheels of a Dream" from "Ragtime" offered by
Allan K. Washington and Adrianna Parson and a funny "Random Black Girl" sung with the requisite
disdain and vocal chops by Da'Keisha Bryant.
Jessica Ann Murphy—who has already had call-backs for Broadway's "The Little Mermaid" and the
national tour of the new "Little House on the Prairie" musical—offered moving takes on both "Waiting
for Life" from "Once on this Island" and "Breathe" from "In the Heights."
While the obligatory "Seasons of Love" closed the first act, it was encouraging to see the cast uncover
songs from such obscurities (even to this musical theater geek) as "Samson's Fire" and "Mrs. Sharp."
Plus, I'll admit getting a kick out of knowing that someone else—in this case, gutsy Ball State
University student Ella Raymont—appreciated the goofy "Screw Loose" from "Cry-Baby: The Musical."
Here's hoping that both "In the Heights" and "Cry-Baby" are part of the 2010-2011
Broadway in Indianapolis season (which should be announced in February). And here's further hoping that some of the
talent displayed in "New Beginnings" graces such tours soon.•
Please enable JavaScript to view this content.