Dozens of Chrysler and General Motors dealers in Indiana were terminated last year. Now, a dealer trade group wants to block automakers from preying on termination fears to wrest concessions from surviving dealers.

Meanwhile, lawyers for some dumped dealers are preparing arbitration challenges in hopes of winning back their franchises.

"We're going to wind up with 12 or 15 of them," Ronald Smith, an attorney at Indianapolis-based Stewart & Irwin, said of arbitration requests his firm is expecting.

The Automobile Dealers Association of Indiana is backing Senate Bill 117, filed by State Sen. Randy Head, R-Logansport. The measure declares it an unfair business practice for an automaker to strike an agreement asking a dealer to waive dealer protection laws in Indiana.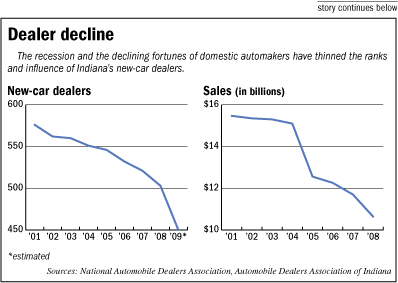 Marty Murphy, executive director of the ADAI, said he's not aware of such pressure in Indiana but that there are reports of it elsewhere.

"We think it's an unfair practice to require them, in order to stay in good graces, to give up franchise [protections]," Murphy said.

Chrysler, which slashed nearly 800 dealers nationwide, terminated 21 in Indiana.

General Motors said it was phasing out about 1,200 dealers nationwide but didn't break down the number by state.

Both automakers argue it's cheaper for them to support fewer dealers and that fewer stores afford survivors better margins.

During the 2009 legislative session, the ADAI backed a trio of bills to bolster state franchise laws. They included requiring carmakers to buy back cars and parts from terminated dealers. The bills died and it was just as well: General Motors and Chrysler were able in bankruptcy court to trump state dealer franchise laws.

But it's only a matter of time before the automakers emerge from bankruptcy, and the ADAI wants stronger franchise protections in place.

"We know what can happen," Murphy said.

Indeed, at the beginning of 2009, there were 503 new-car dealers in the state; now, it's about 450—an 11-percent decrease.

"Nobody anticipated the thinning of the herd we took with bankruptcy," Murphy added.

Dealer ranks were already thinning, particularly in the General Motors ranks, with the closing in recent years of such local firms as Payton Wells Chevrolet, Bud Wolf Chevrolet and Eric Dickerson Buick.

Some lots disappeared as GM eliminates Saturn and Hummer brands. Lockhart Group recently closed Saturn of Indianapolis, on Pike Plaza Road near Lafayette Road.

Such is the decline in the new-car ranks that ADAI has opened its membership to large used-car dealers—those selling at least 120 cars a year.

Franchise terminations last year forced a number of new-car dealers to focus exclusively on used vehicles. Among them is the former Gene Beltz Shadeland Dodge, on North Shadeland Avenue near 16th Street, and Palmer Dodge, on Pike Plaza Road near West 38th Street. The Palmer operation, now known as Palmer-Huffman Automotive, had to reduce payroll and other expenses. Although principal Don Palmer also had a Hyundai new-car dealership, he decided to sell it to Ray Skillman Automotive to help cover part of the $3 million it cost him to remodel his Dodge store—just before Chrysler dumped him.

Skillman now sells the Korean cars out of the remodeled former Palmer building, while Palmer sells used cars nearby at Lafayette Road and West 38th, as well as at his former Dodge facility along East 96th Street.

If there's an upside to the used car business, it is that "you're not having to listen to the manufacturer on 'how to do business,'" said Gary Huffman.

Palmer's and Huffman's new operation also has teamed with NAPA Auto Care to boost its vehicle service offerings, and has seen its fleet repair business increase. Sunday repair service is around the corner. And re-entry into the new-car business isn't out of the question. Huffman would say only that there may be some investment opportunities in new-car stores in the months ahead: "We're going to continue to look for opportunities."

Some dealers are itching to get back their old franchises. Attorney Smith, while he wouldn't name the dealers, said most of the 15 or so for which he plans to seek arbitration are GM dealers.

President Obama recently signed into law an appeal procedure for the roughly 2,000 GM and Chrysler dealers who were axed. Dealers have until Jan. 25 to decide whether to take the case to arbitration.

But Chrysler CEO Sergio Marchionne is threatening to file suit to challenge the law.

"I can't be tortured into capitulating," he told Automotive News earlier this month.

"I think it's going to be a real battle," Smith said.

Meanwhile, a measure has been filed in the Indiana General Assembly to help dealers who've been terminated. House Bill 1049, by Rep. Dale Grubb, D-Covington, would under some circumstances give former franchisees a shot when a new franchise is being considered for the axed dealer's former territory.

That bill is not backed by the ADAI, which says it raises a number of challenging legal issues and that the bill's consideration would be complicated by the short legislative session.•