It was like visiting an old friend. Or, at least, visiting a close relative of an old friend.
That's how it felt when the glorious pizza arrived at our table at Italia Mia (3150 State Road
32E, Westfield, 896-1052).
Up until then, it was difficult to get a handle on the place. Hidden in a CVS-anchored strip center (aren't they
all, these days?) and with no decorating scheme to speak of, Italia Mia seemed to be a work in progress. And small, over-fried
mozzarella sticks ($5.99), a lettuce-heavy Vito's Salad ($6.99)—which didn't make much of an impression
despite prosciutto, red pepper, artichoke, cucumber and more—and indifferent service didn't go far to convince
us that the cold-weather trek had been worth it.
But then the pizza arrived.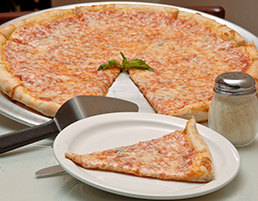 The stellar pie at Italia Mia will taste familiar to those who enjoyed the pizza at now-defunct Cio's.
(IBJ Photo/Robin Jerstad)
And before I even took a bite, I sensed its pedigree.
Yes, it was confirmed by the owner—he had been involved in the late, lamented Cio's, which
once occupied a different strip center farther south on 96th Street. That by-the-slice or by-the-pie
pizza temple had made it to the winner's circle in the 64-pizza bracket I helped organize for the equally
late, lamented Indy Men's Magazine.
I didn't realize how much I missed it until I found myself going for a second and third slice of
this New York-style masterwork. Like its predecessor, the Italia Mia pie eschews gimmicks in favor of
a crunchy-on-the-outside, soft-on-the-inside foldable crust; a thin, flavorful sauce; and just the right
amount of cheese to harmonically converge the three key ingredients. Just right.
We also tried the Meatball Parmigiana Sub ($5.99), whose dark orbs were completely hidden with a coat
of mozzarella, and the satisfying Fettuccine Alfredo ($8.99), which mercifully didn't overdo the
cream sauce.
But it's the pizza that's the real draw here. And every Monday since dining there, I've
envied the restaurant's Westfield neighbors, who are close enough to take advantage of Italia Mia's
buy-one-pie-get-the-second-for-half-price deal on a regular basis. In my book, one of the few things
better than a great pizza is having extra slices in the refrigerator for the next day's lunch.•
—Lou Harry
__________
Third in a month-long series of visits to new pizza places.
Please enable JavaScript to view this content.