A local construction company is drawing up plans for a mixed-use project with offices, a parking garage and retail space on several parcels it owns near Capitol Avenue and 16th Street.

Shiel Sexton is in the early stages of a plan to turn the roughly four-acre swath of mostly vacant lots into a mid-rise development that could cost as much as $50 million. The company is talking with Clarian Health about serving as the project's anchor.

Shiel owns all the land east of Capitol from 14th Street to 16th Street with the exception of Indianapolis Fire Station No. 5 on the corner, and also owns the southwest corner of 16th and Illinois streets (see map, page 29). The company, which gradually bought up the parcels over several years, eventually hopes to move the fire station and incorporate that property as well.

Preliminary plans call for a four- to six-story office building, possibly with a retail component at 16th and Illinois, and a parking garage along Capitol, said Buddy Hennessey, Shiel's executive vice president.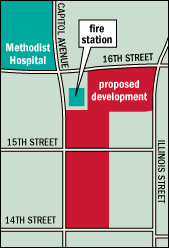 Clarian officials have spoken with Shiel Sexton about the project and would be interested in taking space if a deal comes together, spokesman James Wide said in an e-mail.

"However, that is as far as the conversations have gone," he added.

Depending on demand from potential tenants, including Clarian, the project could start with a smaller building in the 60,000-square-foot range. The goal, though, is to build a dense, urban project with roughly 300,000 square feet of available space, Hennessey said.

He emphasized there is no deal yet, only a framework for what one might look like. Financing hurdles are unlikely if Shiel lands a commitment from an anchor tenant; its ownership of the property also should help.

"It's not a matter of if, it's a matter of when," Hennessey said. "This is in our neighborhood and we'd like to see it continue to grow and develop."

Shiel, which has its headquarters at 902 N. Capitol Ave. in the former home of Indiana Casket Co., has been prolific in its back yard.

The company renovated the former home of Lexington Automobile Co. at 12th and Meridian streets, restored a former Stutz automotive plant at 14th and Capitol, and is renovating a historic former Buick showroom at 13th and Meridian streets.

The 16th and Capitol development would be the company's first new-construction project in the neighborhood, but not its first partnership with Clarian. On its Web site, Shiel touts its role in building the 410,000-square-foot Clarian West Medical Center in Avon and a 56-room cardiac unit at Methodist Hospital, which sits just across the street from the company's holdings at 16th and Capitol.

"We're hoping to continue progress by turning vacant ground and parking into something that would advance that whole life-sciences corridor," Shiel Sexton CEO Mike Dilts said.

The collection of undeveloped properties near 16th Street, including those owned by Shiel, represent the neighborhood's largest chance for contiguous redevelopment—"a rare opportunity for huge change, redefining change instead of incremental development," said Michael Osborne, president of the Near North Development Corp.

Osborne said Shiel Sexton's project has not advanced far enough for the company to share details with neighborhood groups, but he's optimistic about its potential to attract employees who could help support more retail and even residential development.

"Any kind of redevelopment at that location especially would have a huge impact on our service area, serving to draw downtown out this way," said Osborne, whose group focuses on the area from Michigan Street north to 38th Street and roughly the Central Canal and Interstate 65 east to Pennsylvania Street.

The corridor has been a hotbed of development activity in the last few years, particularly with redevelopment of existing buildings and infill projects. Public television station WFYI moved to the former Indiana Gas headquarters at 16th and Meridian streets in 2008, and local IT firm Apparatus last year agreed to buy WFYI's former headquarters at 14th and Meridian.

Accounting firm London Witte Group last year renovated and moved into the former Grain Dealers Mutual Insurance Company building at 18th and Meridian. And both Walgreen's and CVS have opened drugstores south of 16th Street on either side of Meridian.•