Indiana is home to two of the top hotels in the world. Conrad Indianapolis and West Baden Springs Hotel have been named
to Condé Nast Traveler's Gold List 2010.
For
the second year in a row, Conrad Indianapolis received the distinction among 681 other hotels and
resorts internationally.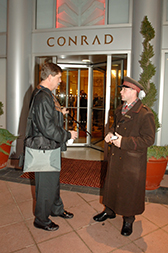 Conrad Indianapolis has won three major awards in recent months. (IBJ File Photo)
The Gold List is one step
beyond the previous award Conrad Indianapolis received in October through Condé
Nast Traveler Readers' Choice Awards as a Top 100 U.S. Hotel.
Inclusion in the Condé Nast list is considered one of the top benchmarks of excellence
by hoteliers. The ranking is based on five criteria: rooms, service, food and dining, location, and overall
design.
In April, Expedia rated Conrad's Indianapolis
hotel as No. 3 in the United States on its annual Insiders' Select List.
The Conrad Indianapolis and West Baden Springs Hotel "set their standards
high and do a great job representing Indiana not just to travelers locally, but
to the global audience that recognizes the accolades bestowed by Condé Nast," said John
Livengood, president and CEO of Indiana Hotel and Lodging Association.
Please enable JavaScript to view this content.