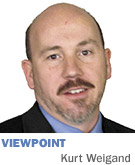 About 18 months ago, I watched as the entire exterior of an expensive condo on the Central Canal—originally
built in 1996—was rebuilt. Among the issues: There was no building paper (Tyvek) under the siding, treated lumber wasn't
used on the exposed porches, and neither was there any drainage. As a result, much of the exterior rotted and had to be replaced
at a huge expense.
Certainly it raises questions about the quality of the original construction, but it raises
a much larger issue about the permitting and inspection provided by the city of Indianapolis. How could a building on a high-profile
site—and within blocks of the City-County Building— be built with such obvious defects and go undetected?
Unfortunately, this wasn't an isolated incident. Residential construction and remodeling work in Indianapolis often
happens without inspections. One such project on the near-east side became known as the "tall house." Permits
were issued but no inspections were done by the city until the contractor had done egregiously faulty work on the house—including
adding a fourth floor, thereby causing a flagrant zoning violation—that triggered outcry from the neighborhood.
After a heated multiyear battle with the city, residents got the height of the home reduced to 35 feet, but the structure
remains uninhabitable, unsellable and a blight on the neighborhood—a monument to failed oversight.
It's
not that a few projects fell through the cracks of the system; it's that the current system is virtually non-functional.
In my own neighborhood, a recent call to the Mayor's Action Center regarding work without a permit finally got a response
90 days later, and even then the inspector failed to notice that no permits had been issued. A stop-work order should happen
within four hours after a problem is reported, without requiring a follow-up to the mayor's liaison; an entire house
can be built in 90 days.
This isn't just an issue for the immediate property owner. Code enforcement protects
future property owners, lien holders and occupants as well. Poor-quality work can mean expensive repairs later. It can also
mean an unsafe structure or property that can't ever be financed by a traditional lender—all of which add to the
problem of vacant and abandoned property.
The lack of code enforcement also discourages much-needed private investment
in nearby properties. Who wants to invest in a home that's near a cobbled-up mess?
Residential construction
permitting and inspection is front and center now because of a confluence of issues: Mayor Greg Ballard is reorganizing the
division of code enforcement. He is also moving to increase fees in an attempt to make these services self-supporting. Commercial
property inspection has become a priority. Meanwhile, vacant and abandoned property plagues Marion County.
According
to its own press release, the city was called out for its weak permitting and inspection of commercial, industrial and multifamily
construction. An audit by the New Jersey-based Insurance Services Office revealed too few inspectors, a lack of inspector
certification, low inspection rates and no final audit to issue a certificate of occupancy. Because of an increase in the
insurance risk rating, steps have been taken to fix this problem. It's not clear that the fixes extend to residential
construction as well.
It's easy to imagine residential permitting and inspection taking a back seat when
funds are tight and the city is forced to make fixing the commercial side of things a priority.
To remain economically
viable, the city must focus on transforming existing vacant and under-used property to its highest and best use. Doing that
requires private investment, and private investment requires functional construction oversight. Let's hope the newly
organized Office of Code Enforcement gets it right and doesn't sacrifice residential enforcement in a shortsighted effort
to become self-supporting.•
__________
Wiegand is information technology director for a local
company. He sits on the steering committee for the Emerson Avenue Corridor Gateway Project and is active in his Emerson Heights
neighborhood on the east side. He previously spent eight years at Eastside Community Investments, a neighborhood development
organization.

Please enable JavaScript to view this content.