It's great to see another eatery/drinkery take over the corner at College and Broad Ripple avenues. The last thing this nightlife district needs is a For Lease sign in such a high-visibility area.

An extension of its Noblesville namesake, Barley Island Restaurant & Brewhouse (701 Broad Ripple Ave.) has simplified the interior that made the site's former tenant, Scholar's Inn Bakehouse, cramped and confusing. An outer rim gives family diners the window seats while the requisite sports-airing TVs are reasonably unobtrusive for such establishments.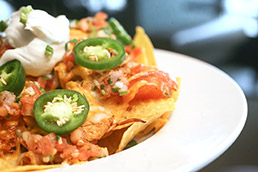 Tex-mex Chicken Nachos highlight the menu at Barley Island's new Broad Ripple location. (IBJ Photo/ Perry Reichanadter)
The drinks are the main attraction here—handcrafted ales include such award winners as the Dirty Helen brown ale and the Beastie Barrel stout. But I'll leave it to other palates to comment on the brews. I had nothing stronger than a Barley Island Root Beer.

A waitress confident that she didn't need pad and pencil converted Brewpub Nachos into Tex-Mex Chicken Nachos ($9 either way) and allowed the sour cream to arrive plopped on top instead of sided, as we requested. Still, the hearty pile was efficiently devoured and the generous portions of shredded spiced chicken made this feel like a meal. The Spinach & Artichoke Crock ($7) was heavy with the green stuff but serviceable enough to make up for our own foolishness at ordering two chip-centric appetizers.

A sizable Black Bean Burger ($6.50) scored points for eschewing boxed patties in favor of a house mix of beans, cheese, carrots, cilantro and beer.

Oriental Salmon Salad (usually $10 but on special for the oddly priced $5.30) offered a large piece of fish in a subtle lime teriyaki sauce atop plenty of greens, mandarin oranges, oriental noodles, onion and carrots. I opted to side it with the soup of the day, Black Bean ($3 a cup) whose sour cream seemed to have infused the whole rather than stay in its place as a topping.

While the confusing online menu seems to indicate that, at lunch, kids' meals and drinks are free, that didn't prove the case. Our waitress admitted that the site has caused some confusion but didn't allow that to lighten our bill. Nonetheless, my son's Kids Only Hamburger gave me reason to wish I had ordered an adult version. Perhaps next time … with a tall glass of Blind Tiger.•

—Lou Harry

__________

Second in our month-long series of reviews of College Avenue eateries.