Most know him as a retired captain of industry—of banking, as chairman of First Indiana Corp., and law, as co-founder of Bose McKinney & Evans.
Few know that Robert H. McKinney started out planning to become a national park guide.
"Then the war came along and off I went," recalled McKinney of the days after the Japanese bombed Pearl Harbor. Instead of frequenting pristine forests, he suited up to hike the paths at the U.S. Naval Academy.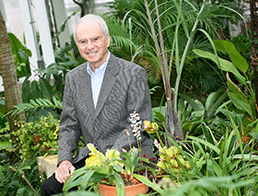 Bob McKinney, retired chairman of First Indiana Corp., at the butterfly garden at White River Gardens. McKinney recently gave $1 million to the Sierra Club to combat climate change, and hundreds of thousands of dollars to local environmental efforts. (IBJ Photo/ Perry Reichanadter)
Nearly 70 years later, McKinney's wardrobe still lacks a park guide's uniform. But he's converting a portion of the wealth generated by his detoured career path to the environment. McKinney and wife, Arlene, have pledged $1 million to the Sierra Club, to its Climate Recovery Partnership.
The partnership seeks to raise $400 million toward the goal of reducing carbon emissions 80 percent by 2050. The goal includes retiring all coal-fired power plants by 2030.
"While my $1 million sounds big, in the scheme of things, it's not that big," said McKinney, 84, whose bushy eyebrows have turned white in recent years.
The big donation isn't his first tip of the hat to environmental causes since retiring from First Indiana in 2005. First Indiana was acquired in 2008 by Wisconsin-based M&I Corp. for $529 million. Based on the 20 percent of First Indiana shares McKinney owned, he would have grossed more than $111 million in the deal, adding to his capacity to support environmental causes.
For the last six years, McKinney has served on the Sierra Club's national foundation and is concluding a term as its board chairman.
The Sierra Club "is the best answer in America to the problem," he said.
The problem, if you have to ask, is climate change, which some scientists say is largely the result of human activity since the Industrial Revolution.
Others debate man's role in rising global temperatures. They point to everything from solar patterns to shifts in the tilt of the earth's axis in recurring cycles over tens of thousands of years.
"I think the world has a big problem," McKinney added.
So do those he's been hanging with over the last several years, including Donald Kennedy, an environmental scientist and ex-president of Stanford University who chairs the club's Climate Recovery Partnership.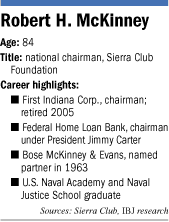 "I'm proud to be working with the McKinneys to provide intellectual and philanthropic leadership in Sierra Club's efforts to fight the human causes and devastating effects of global warming," Kennedy said in a statement following the McKinneys' big gift.
"Around here, unfortunately, you don't hear as much about climate change as you do in other areas of the country," McKinney said. "The Midwest is coal country."
McKinney wants to change that. Besides lobbying Congress for climate change legislation, he's been a big backer of the Hoosier Environmental Council. In May, the McKinney family made the biggest donation in HEC's 26-year history—$200,000 to support renewable energy, transportation alternatives and sustainable agriculture.
Part of the HEC's agenda has been to push for legislation that would provide incentives for manufacturers of renewable energy equipment to locate here.
"We've gone at it in a way to grow jobs, to build industry in this state," McKinney said.
"He's been pivotal to enable HEC to take a more strategic, research-based partnership approach to our organization," said Jesse Kharbanda, HEC's executive director.
Kharbanda formerly worked for the Chicago-based Environmental Law and Policy Center and is a Rhodes Scholar with a background in economics.
McKinney noted Indiana's progress in areas such as wind farms and companies developing technology for hybrid electric vehicles. He'd like to see the passage of legislation such as a renewable energy standard, which requires that utilities generate a set percentage of their power from renewable resources. Such legislation would make venture capital firms more comfortable that Indiana is a supportive environment for such investments, he added.
Currently, legislation is advancing in the Indiana General Assembly that would provide more incentive for consumers to install renewable generation systems, such as solar or wind turbines.
McKinney, through the McKinney Family Foundation, last year also donated money to support the initiatives of Mayor Greg Ballard's Office of Sustainability.
The amount was not disclosed, but it was a "whole lot of money," Karen Haley, director of the Office of Sustainability, said at the time. The initiatives range from energy-efficient buildings to bicycle paths.
McKinney, a Democrat, was named by Republican Ballard's predecessor, Bart Peterson, as chairman of the city's green commission.
McKinney is among several retired CEOs who've taken up environmental causes. Among them is Pat Galyan, founder of the Galyan's sporting goods chain that operated in 21 states, which in 2004 was acquired by Pittsburgh-based Dick's Sporting Goods.
For years, Galyan has raised hundreds of thousands of dollars hosting an annual dinner in which he wines and dines outdoorsmen and business types for a donation to protect land in southwestern Alaska.
Recently, Galyan expanded his efforts to auctioning on eBay goods and trips donated by local businesses, via www.savethelastgreatfishery.org.•
Please enable JavaScript to view this content.