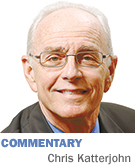 In mainstream media, business often gets a bad rap. Corporations can be portrayed as callous, non-feeling behemoths that care only about the bottom line.
Most of the people who read this newspaper know otherwise. They also know the business community regularly rises to the occasion to help the community's less fortunate.
Take the annual United Way of Central Indiana campaign. Eighty-five percent of the $38.7 million raised in 2008 came directly from businesses or their employees through company campaigns. And, remember, it takes a CEO to say "yes" before a company campaign happens.
Sometimes the generosity and spirit of giving go beyond the local scope of the United Way and flow over Indiana's borders when a national or international need is great.
Most recently, Hoosier businesses have stepped up for the citizens of Haiti, the island nation that was literally shaken to pieces by a massive earthquake Jan. 12.
Beyond the infrastructure devastation, as many as 200,000 people are feared dead, and—depending on which estimate you believe—between 1 million and 2 million Haitians have been left homeless in what was already the poorest nation in the Western hemisphere. Many without friends or family are children.
Our business community has responded on multiple levels.
To date, Eli Lilly has donated $125,000, half of its cash commitment, and its employees have contributed more than $200,000, which will be matched dollar-for-dollar by the company's foundation.
Lilly has shipped or committed to ship $4 million worth of medications, including antibiotics, insulin and neuroscience meds.
A week or so after the earthquake, The Finish Line began collecting donations from its 12,000 employees and—through its Corporate Social Responsibility Program—agreed to match those contributions up to $25,000.
The Finish Line Youth Foundation also will match up to $50,000 in contributions from the company's customers, who can make donations at Finish Line stores.
Community Health Network and OneAmerica Financial Partners have used their affiliated foundations to make donations and match employee contributions. I'm sure there are more.
Multiple retailers have employed the point-of-purchase strategy to inspire and encourage donations from their customers for Haitian relief. Kroger, Marsh and Starbucks, just to name a few, have set up collection points in checkout lanes; Marsh created $1, $3 and $5 scan tags to facilitate the process.
Local sports organizations have tried to leverage fan loyalty to prompt donations. The Indiana Pacers, Indianapolis Colts and Indianapolis Motor Speedway have either made direct contributions or come up with programs to encourage fans to give, or both.
Wishard Hospital paramedic Mike Thralls led a local triage team that was on the ground for about a week in Port au Prince and delivered emergency care to between 800 and 1,000 people. They left Indianapolis Jan. 19 with free box lunches from Harry & Izzy's and took 2-1/2 tons of medical supplies for delivery.
The Ice Miller law firm matched employee and partner contributions and donated the funds to Haiti through both the American Red Cross and the Salvation Army.
The local hotel/lodging and restaurant associations organized and manned a fund-raising drive Jan. 29 on Monument Circle. Both organizations placed donation canisters in each of their members' locations.
The list goes on and on. In addition to the companies above, the local chapter of the Red Cross tells me it's aware of efforts by DowAgrosciences, J.C. Hart Co., City Securities Corp., General Motors' Indianapolis Stamping plant, Old National Bank, RCI and Allison Transmission.
I'm sure these names represent a small percentage of businesses that have stepped up for Haiti. And that doesn't feel callous to me.•
__________
Katterjohn is publisher of IBJ. To comment on this column, send e-mail to ckatterjohn@ibj.com.

Please enable JavaScript to view this content.