After last week's trek to Barley Island in Broad Ripple, we slid several blocks south on College Avenue—an area local restaurateur Neal Brown has dubbed the "gourmet ghetto"—to the much-praised Taste Café and Marketplace.

Launched in 2004 as a hole-in-the-wall breakfast/lunch spot, Taste (5164 N. College Ave., 925-2233) has since expanded both its footprint and its food, adding dinner a few nights a week in its newly enlarged space.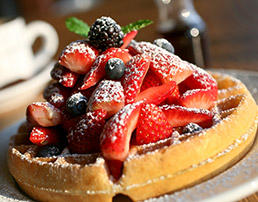 Topped with fresh strawberries and a touch of syrup, Taste's Belgian Waffle was fluffily delicious. (IBJ Photo/ Perry Reichanadter)
Since I'd heard so much buzz about the breakfast, we stuck with the tried and true. The morning menu was more basic than I expected: bagels and fixings, a handful of egg dishes and a couple of standards like oatmeal ($6.95) and biscuits and gravy ($5.95). Diners order and pay at the counter, help themselves to coffee ($1.75), grab a table, and wait for their meal to arrive.

Ours started with a Southwest Burrito ($7.25), a delightful concoction that delivered a surprisingly flavorful punch. You know breakfast burritos have hit the mainstream when they're available at McDonald's, but Taste's version is anything but ordinary. Sure, the scrambled eggs and potatoes are fairly standard. But how about chunks of hot chorizo sausage, pepper jack cheese, avocado and black beans? Ronald doesn't even come close. Served with house-made salsa, this generously portioned burrito would satisfy at any time of day.

While I devoured that, my friend all but inhaled her Belgian Waffle ($6.95), which was topped with a mound of sliced strawberries. The waffle was deliciously fluffy, a nice contrast to the slightly under-ripe fruit. And the miniature carafe of syrup provided just enough sweetness to tie everything together. Our only complaint: the sausage patties ($2) she ordered on the side were a little bland for her liking—and for Taste's reputation.

Somehow overlooking the bakery case packed with goodies like bread pudding and hummingbird cake, we filled out the meal with what amounted to a mini version of Taste's C.B. & G. meal ($5.95): a cheddar biscuit (50 cents) and dish of gravy ($2.50). What's not to like?

I broke apart the cheesy biscuit—crunchy on the outside, heavenly moist on the inside—covered it with the creamy sausage gravy and made sure there was no room for dessert. Because dessert with breakfast—that would have been decadent, right?•

—Andrea Muirragui Davis

__________

Third in our month-long series of reviews of College Avenue eateries.